Hey Joe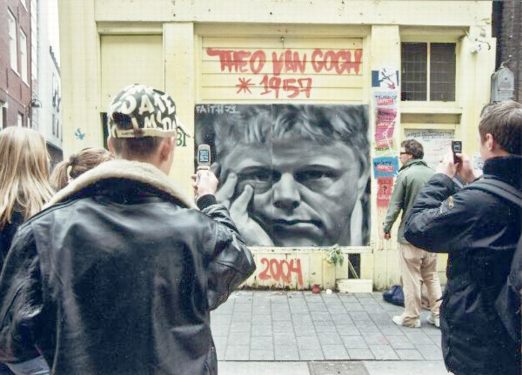 portret van Theo van Gogh door kunstenaar Donovan Spaanstra
op de gevel van een pand in de Warmoesstraat
2 op 3 november 2004, Nederland 2, RTL 4, Saint Germain des Bois. Op wat toch al een bonte nacht met veel Amerikaanse poppenkast beloofde te worden, hebben de media uit de omgeving van de vanmorgen ritueel vermoorde Theo van Gogh een kleurrijk gezelschap getroffenen over de studiovloer gehaald. Helder en precies sprekende collega's en vrienden als Yoeri Albrecht ('over een paar dagen is deze aandacht over en Theo gewoon dood'), maar ook politieke opportunisten van een genre post-Fortuyn, die een omgebrachte ridder van het vrije woord kunnen gebruiken om Nederland minder vrij te maken, krijgen de ruimte. De multiculturele kroon spannen Barend & van Dorp — commerce oblige — waarbij het gemengde berichten - gemengde overtuigingen - gemengde gevoelens formaat iedere aanwezige optimaal bedient. Tot half vijf 's ochtends en nog geen president zap ik heen en weer tussen een klassiek Nederlandse Maartje van Weegeren en de al even traditioneel Hollandse tafel van B&vD, waar Prem Radhakishun de af- en aanschuivende culturati Surinaamse specialiteiten uitserveert. Ik vergeet de namen van de meeste personages gemakkelijk. Je ziet ze wel vaker op de tv. Ze komen uit de politiek, de literatuur, media en muziek, journalistiek. Ze hebben ook een gewone dagelijkse bezigheid waar ze zich met hart en ziel aan geven en waarin ze, als iedereen, van middelmatig tot bijzonder presteren. Soms brengen we de zorgvuldige aandacht op die hun werk verdient. Op tv zijn ze meestal niet te pruimen.

Terwijl conservatief Amerika John Kerry langzaam maar zeker van het wereldtoneel drukt ligt Theo van Gogh geofferd in Amsterdam. Tot voor vandaag werden die twee niet niet in éen adem genoemd. Theo dacht niet zo politiek. Hij wilde nota bene Nederland voor de VS verruilen zodra zijn zoon het huis uit zou zijn. De blazers in Wilson Pickett's Hey Joe, of een andere vrijheidsmythe, lokte hem er naar toe. Zoals het 'vrije woord', dat hem uiteindelijk met een Korancitaat in de maag gesplitst op het koude asfalt van het fietspad aan de Linaeusstraat doet belanden. Het witte laken lijkt inderdaad op twee tentstokken te hangen, zoals een over zijn balkon leunende stadgenoot opmerkt. De laatste woorden die van Gogh misschien heeft gehoord moeten 'doe het niet, doe het niet' zijn geweest, geroepen door een vrouw met kind verscholen achter een auto, tegen een aan tradities en politieke ideeën die voor ons volstrekt ontoegankelijk zijn ontvlamde aanvaller. Theo deed niet aan cultureel relativisme. Anders dan in de door hem uiteindelijk verketterde jaren 1960-70 zal cultureel relativisme de hedendaagse Nederlandse samenleving ook niet verlossen van fundamenteel fanatisme. Daar zijn krachtiger ideeën voor nodig.

Rockin' in the Free World. Als ik in een van de vele fragmenten een jongere van Gogh in een zwart leren jack naar Hey Joe zie luisteren en enthousiast de blazers hoor aankondigen: nu komen die trompetten!, moet ik ook aan Boudewijn Büch denken. In weer een ander televisieproduct lopen Theo en Boudewijn samen door park De Pauw in Wassenaar. Een van tweeën zet zich nog op een leeuwenrug, bij de badkuip voor het Raadhuis. Die lokatie had Theo in Luger al gebruikt. Mijn oude leraar Nederlands, Veurman, deed er geloof ik zelfs de deur open. Ging daar ook de poes de centrifuge in? Het kille marmer van de grote katterug voor de villa herinner ik me in elk geval nog goed aan mijn kinderkont. De Pauw diende in Wassenaar als decor van zondagse wandelingen en puberale vrijpartijen in 'de bosjes'. Een plek waar we volwassen proberen te worden. Hey Joe!

Dwarse fantasten en recalcitrante kunstenaars uit de baby boom generatie hebben een vorm van geen enkele autoriteit erkennende vrijheid voortgebracht waarvan Theo een sprekend voorbeeld, uitgekookt exploitant en groot genieter was. Een bijzondere combinatie van temperament en tijdgeest, karakter en opvoeding, traditie en kritiek vormde deze van Gogh, het klimaat was hem gunstig gezind, Nederland baalde van hem en hield van hem. Iemand herdacht hem ongeveer zo: als een uniek product van bepaalde historische ontwikkelingen, waarvan een samenleving er maar weinig cadeau krijgt. Het product van een significant ander karakter en opvoeding, uit een andere traditie en met een andere kritiek op het culturele en politieke klimaat heeft naar schandelijke middelen gegrepen. De kloof is onoverbrugbaar.