DE VLUCHT WEGEN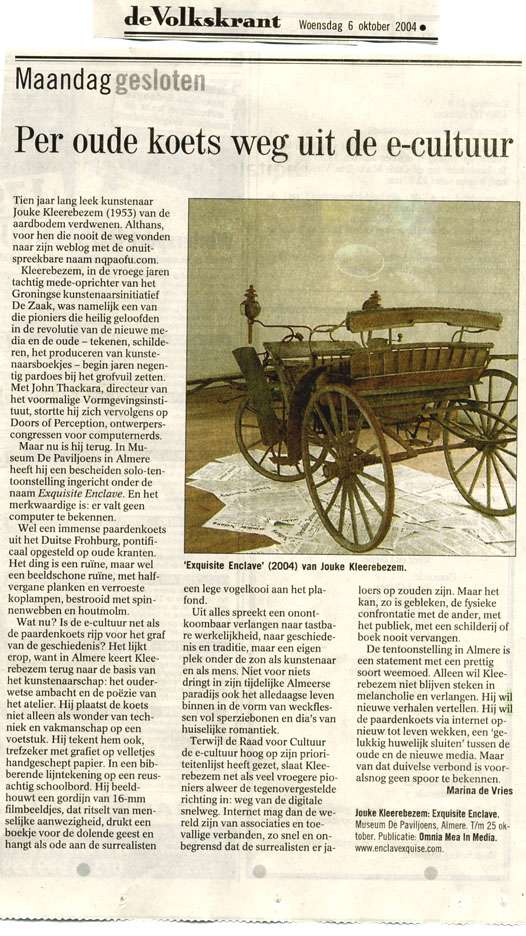 Had e-nough? logoot een t-shirt dat me in 1995 van overzee werd toegezonden, in dank voor mijn reactie op het verzoek van de Amerikaanse softwarestudio 'Persistence' ('volharding'... en inderdaad zitten ze nog in de dotcom branch, 'building successful commerce sites, not coining new e-words') tot het mailen van een flagrant voorbeeld van e-uforie over de i-nformatisering. Welk e-superlatief ik aanbood ben ik vergeten, maar er is nog steeds volop keus. 'Had e-nough' was maar een vroege waarschuwing. Het shirt draag ik vooral bij tuin- en onderhoudswerkzaamheden. Sinds we echter 'internet', met een 'i', in plaats van 'het Internet' schrijven en een e-cultuur de i-nformatisering heeft verdrongen, moeten we onze vlucht met alle middelen wegen. Marina de Vries zet in de Volkskrant van vandaag mijn zaken kritisch op een rijtje. De tijd gaat tegelijkertijd vooruit en achteruit en staat stil, voor wie maar wil. Materiaal veroudert, vervalt of wordt in enige vorm geconserveerd, afhankelijk van onze bedoeling ermee. De betekenis die we aan de ruïne hechten herstelt niet het object, maar ons vertrouwen in een tijd die zowel voor- als achteruit verstrijkt, en op vele plaatsen rust. Het vertrouwen in de tijd, in een eigen tijd en in het natuurlijke verloop ervan, kan ongegeneerd vooruitgang, achteruitgang en stilstand waarderen. Er gaat geen dag voorbij of het verleden eigent zich hebzuchtig het heden toe, terwijl een volgend heden gulzig hele stukken toekomst naar binnen werkt. Daar heb je de kunst nauwelijks bij nodig. Maar zoals de door mij graag geciteerde kunstcriticus Dave Hickey ons voorhoudt: het stomme object dient om ons aan de praat te houden, niet in de eerste plaats aan het woord, maar vooral ook bij de les te houden. Die les lezen we van het (school-)bord en van het scherm, van het doek en van het celluloid, van papier, uit de krant, natuurlijk, ook.

In tien jaar kan een hoop bedorven raken. Als een natte krant van gisteren is de publieke opinie het afgelopen decennium tegen ernstige houdbaarheidsproblemen opgelopen. Blootgesteld aan een opeenstapeling van misverstanden en inschattingsfouten over de i- van i-nternet en i-nformatisering en de e- van e-conomie en e-cultuur, zwalkt een ernstig beschadigd gezond verstand tussen de politieke en sociaal-culturele aanbiedingen door, zwelgend in de nieuwe i-consumptie. Nederland wordt moreel verscheurd onder invloed van vreemde zogenoemd allochtone en nog vreemdere autochtone culturele voorkeuren. De burger wordt daarbij door een zittend bestel in de armen van nieuwe verkeerde vrienden en vijanden gedreven en aangemoedigd om moreel minstens 50 jaar 'terug in de tijd' te gaan — een onmogelijkheid, voor wie dat nog niet wist. Terwijl een eigentijds bewustzijn zich sinds T.S. Eliot's Tradition and the individual talent ('Traditie en persoonlijkheid', Kok Agora 1988) op vanzelfsprekende wijze in het verleden en de toekomst nestelt, staat ook in Nederland de stok van lineariteit en morele eenkennigheid opnieuw achter de deur.

Richard Lanham's The Electronic Word; Democracy, Technology, and the Arts kocht ik in 1993 als hypercard stack op een floppy disk. Het betoogt dat de introductie van de computer vooral een culturele revolutie inluidt. Niet lang na de aanschaf van de electronische versie kocht ik ook het boek, dat inmiddels stukgelezen is. Floppy drives zijn in geen velden of wegen meer te bekennen.

The most powerful influence of the computer on modern thinking, I would argue, is not statistical or scientific, but humanistic. Rhetorical, in fact. Precisely as the rhetorical practice of declamation put dramatic rehearsal at the center of classical thought, the computer has put modelling at the center of ours. (...) And again we find a counterpart in that range of postmodern art which constitutes itself from self-conscious happenings.

Professor in de retorica Lanham centreert zijn argumenten rond het idee van de 'oefening', de rehearsal, en het 'model'. De koets is een model, de winkelmodellen zijn prototypes, het behang is gemodelleerd naar NQP weblog-achtergrond, het 16 milimeter media gordijn kleurt het zicht op de stille ateliers van Max Ernst en Jean Arp... De werken zijn model èn ding in één en doen ons zowel naar als 'door' ze kijken. Die dubbele blik op/door het object — at/through vision bij Lanham — typeert voor hem terugkeer naar de retoriek in het postmoderne bestel. Een zelf-bewuste en zich binnen artistieke tradities modellerende eigentijdse kunst verschijnt in interactie met de dagelijkse werkelijkheid, en manifesteert zich met wisselende strategiën en met wisselend succes als symbolische orde. De kunst eigent zich daarbij minder een isolement in de ruimte toe (de roemruchte 'splendid isolation' van de 'white cube' werd in de museumwinkel zo goed als opgeheven), dan dat het meer en meer een luchtig isolement in de tijd schetst, bezijden de doordravende designer-actualiteit van de massamedia. In de kunst beleggen we de tijd om aandacht te besteden aan die oriëntatie op de hedendaagse werkelijkheid, die door andere disciplines niet wordt opgebracht. Kunst neemt de tijd om te oefenen — om zich te oefenen, om ons te oefenen. Kris-kras gaten in de tijd te bouwen en houwen moet daarbij een dagelijkse routine worden.

Kunst zet tot oefening aan. Tot die ontdekking moest ook ik (weer) komen. 'Almere' draagt daar veel aan bij. Oefeningen die dit 'weblog met de onuitspreekbare naam nqpaofu.com' jarenlang bezorgt worden dan plotseling tastbaar, winnen in de bijzondere zeggingskracht van de materialiteit, in een omgeving die zich zowel naar status als naar aard van de bedrijfsvoering richt op het volgen, stimuleren en aanbieden van een samenhangende proces van maken, presenteren en informeren. Mijn articulatie. Het lijkt het Internet wel! Ik herhaal nog maar eens Tim Berners-Lee:

(...) this all works only if each person makes links as he or she browses, so writing, link creation and browsing must be totally integrated.

Sommige ideeën en objecten adelen met het verstrijken van de tijd. Naar Internet-jaren gemeten duurt een decennium een eeuwigheid. Daarom zien we in de nieuwe media bepaalde culturele processen zich in slechts tien jaar veredelen. De explosie aan journalistieke/philologische publicaties op het Internet is hiervan het meest sprekende voorbeeld. Oefening wordt op oefening gestapeld en aan oefening gelinkt. Het 'duivelse verbond' waarover Marina de Vries schrijft zal in de uitbreiding van zulke informatiserings-oefeningen gestalte moeten krijgen. Natuurlijk zie ik zelf al een paar aanzetten, maar na een zorgvuldige en af en toe mooi geformuleerde kritiek ('hij beeldhouwt een gordijn van 16-mm filmbeeldjes, dat ritselt van de menselijke aanwezigheid, drukt een boekje voor de dolende geest...') ben ik niet ongevoelig voor dit argument. Ik kom er waarschijnlijk het beste aan tegemoet als ik niet weer tien jaar wacht met een volgende installatie.