anima in studio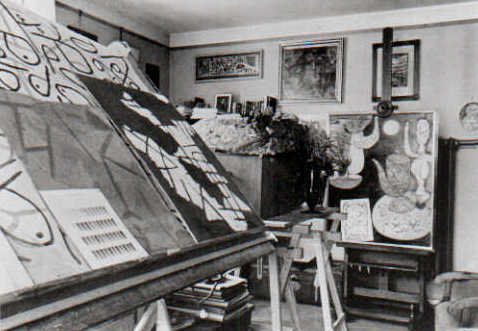 To conceive and construct worlds, from the fundamental appreciation that everything is alive, with anima, means to build relations between the living. Every world is an infinite set of relations which support its condition. The more open relations are, the bigger and more complex their world becomes. Over time it develops histories and a history of histories of histories. It grows fat with relational data: narrative. Outside anecdote — Gr. anekdotos: that which has not been given out of hands, which has not been released — all is publishing, articulation, story telling. World construction.

To work in a studio means to work in isolation, to construct worlds in an an-ecdotal manner. To work out of a studio means to work for publication of such worlds. The studio threshold is hard to cross in either direction. Whether on the way out: call it ship, send or FTP, or on the way in: call it bring, take or download — artists cross that threshold all the time, mindful of the passage and its transactions. At times they rather stay in, at times it is better to stay out.

The animated worlds' ecologies are alive. No environment is more sustainable, more supportive of keeping its processes alive but contained, than the studio. The occasional cloud of dust is sacred. To return to the studio is a return to the prime conditions that support and feed you, from which you will support and feed other worlds, inside as well as outside that... portal. Center at the edge. Room with secret thresholds.



Grotesque: Pictures wherein (as pleases the Painter) all kinds of odde things are represented without any peculiar sense, or meaning, but only to feed the eye.
— R. Cotgrave, A Dictionairie of the French and English Tongues, 1611, as quoted in Geoffrey Galt Harpham, On the Grotesque, 1982, Princeton Universtiy Press.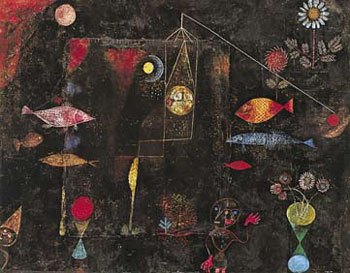 img. 2: a Klee painting downloaded
from a Japanese homepage
As pleases the Painter:

All kinds of odde things. Clouds, trees, waters, stones, hills, flowers, skies, fish all feed the eye the oddest... feed it configurations, blotting, light reflections, all kinds of traces, patterns, Monstra all of them — escape routes, initiations, passages in and out.