REVIEW THIS FORTNIGHT, IF YOU LIKE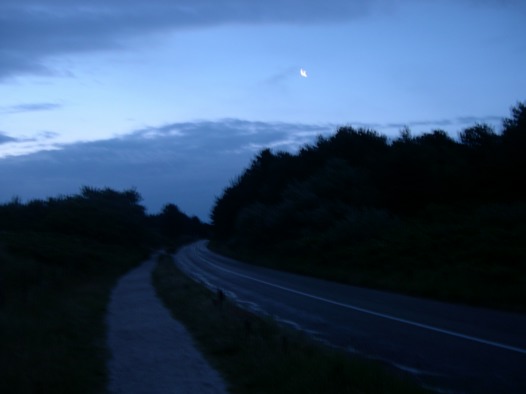 two half moons make a hole memory drain


NL 6-19 June. Long days for a lot of concentrated work on Exquisite Enclave, some unforeseen and some highly anticipated reunions. Like in the first category with Caterina who to my surprise turns up with Rogério on the other beach: Bleyenburg in the Amsterdam IJburg area, at the occasion of a friend's birthday party we catch a glimpse of each other, almost like dropping by the blog, after a day that I had spent at the print shop in Amsterdam, at the end of my stay, exhausted, when I find myself back at the garden shed at Joes and Marjolein's with a view of their pond. Like, earlier that first week, with old friends of the Wassenaar 1970s scene, most among whom haven't seen each other in over 30 years. Rienke and I share room 9 at the Duinoord hotel, while J. and friend are in room 19, R. and friends in room 2, K. in room 1, C. and H. in room 20. Room 9 — if ever you have the opportunity to visit this sand covered place — being the best, spacious, with two long windows W. and N., simple comfort and the better view. Number 9 . . . number 9 . . .

So I find myself at the Wassenaarseslag, at dawn, in high spirits. It's rather cold out here. Even in this condition I do care. I walked out of the hotel just like that, around 5. It's summer. Sun's up early. Some drops fall on my shirt. I'm not that drunk. The Gouden Bal beach café, where we will meet again in a couple of hours, has some lights on. The terrace, beach, dunes, sea are empty. The party is long over, we got back to the hotel and spent some hours in our rooms reviewing what this is all about, seeing old friends, who were there, who were lacking. I took up wine and our home made eau de vie from the car. Now that everyone has gone to sleep I have to walk to the beach, this grey morning of the 12th of June. Decompress. A couple of rabbits run off before me on the bicycle track. Most of the photos I shoot out here, left, right and at my feet, in the air, I will delete later. In a week, at the Moulin, I will review this trip. Only those pics where I rest the camera on a chair or table or pole, are focused. Not the rabbits. Not the rain speckled shiny tin without a label, reflecting the pale light along the path. Not the Gouden Bal wooden three steps down to the beach. Not the half moon which nevertheless I will not delete. You don't delete a half moon, you just don't. Nor two of them.

Wassenaarseslag the beach is where I find myself after the party named after it brings together a group of friends which in 1970, our reference year, shared the youth 'facilities' in Wassenaar: 't Honk, De Brug, Inntro. In these outlandish places we gave ourselves to social and creative pastimes like 'Xoelapepel' a sensitivity training game 'which' purpose was to have no purpose', as Jaap remembers to have understood at the time. We wrote poems and drew imaginary worlds, told each other stories and listened to In-A-Gadda-Da-Vida or Quicksilver's Who Do You Love Suite, danced, made music and smoked our first cigarettes and dope. When De Brug burned down, we lobbied with the town council to get a new place. We organized the Firehouse festival to raise funds. We belonged to the sixties and the sixties belonged to us.

You can't estimate in any sense what happens in 34 years of a lifetime. Between 16 and 50, you live a life. The last time that I saw H., in the fall of 1971, one evening in the school's bike shed, where she and a couple of friends hung out, I still felt the pain of having been in love with her, just before our family moved only half a year before. I had returned to my old school for a sports exchange, to find everything the same and different already. Just like at the Wassenaarseslag after 34 years, but different again. Time passes, we change but we don't. When she walks in at tonight's party I am back in that bicycle shed immediately. A couple of months or 34 years make little difference. Time is easily crossed in two directions. Her green eyes haven't changed, yet 34 years are at home behind them and look through them into the world. The gaze is the same, the reflection has changed. She tells me her years have been spent all over the world, all of those years. No wonder she was supposedly dead, or lost. Stories were manifold. Now she lives around the corner from here. She devotes her time to writing and painting, a little job, strolling the beaches. Airports have become so busy with commodity travellers she doesn't want to go anymore, unless her presence would be needed. Things in her life had to go by themselves. If not they were no good. All of our lives have begun changing as we turned 16. All by themselves.

With few exceptions like H., the once candy colored band of gypsies turns up unrecognizable at first sight. This could have been just any group. Uniforms and hairdo's and waist lines have changed, they fit our ages, milieus and times, our current walks of life. But some faces and postures are unaltered. Voices remain largely the same. After the first amazement at this hole in time which coincides with that whole which you call your life, you recognize more treats, a general atmosphere settles, a recognizable sense of humor returns. The holes in our memory are filled in and filling up. A small slice of a past that was shared between these people maybe even just simply returns, for one evening, for one party, for one long night in rooms 19 and 9 of the Duinoord hotel. For one bottle of eau de vie, for one chew of dope. For one solitary walk back and forth to the beach at dawn. For once, we all turn 17 tonight.

LITTLE STORES REVISITED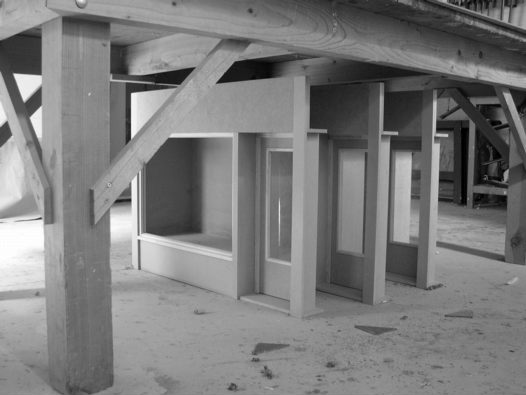 little stores under JvE wood workshop table


Soon on the table in a museum near you, Offgoogle.com, Soirée Poétique and Bazar de Varzy.