nursery
22 March 1998-22 March 2005

Meanwhile, over at the mill.

I held back this post a couple of days, for celebratory impact. From 22 March 2005, living the graph returns to the Moulin du Merle, on the Beuvron, just outside Thurigny, which is part of the Commune of St. Germain des Bois, in the Nièvre department. 'Two hours south of Paris' as they like to advertize. We moved here 6 years ago next week and I want to spend more time here. Publishing at nqpaofu.com will temporarily come to a halt.

Thematizing the house and its setting has always been at home at NQP. The lemoulindumerle.com domain never took off as I intended it to. While I make more intensive private use of it, I will start to redevelop its public use, along with rebuilding the location itself.

We prepare a new phase in our occupancy of the place. Publication will follow in due time: first this summer an essay in De Witte Raaf's 'the house' issue, with an online copy at lemoulindumerle.com which I will bring back to life as well, recast.

As usual, any publications will be announced through the nqpaofu portal. Meanwhile, I will myself mine this site for what it can possibly contain: 7 years of life and work, how exactly and what in the end did boil down here? Partly reorganizing some of that material is in the plan.

For information and reservations at the Moulin phone +33 (0)386 275910 . Email address is 'livingthegraph' at the Moulin's well-known Internet domain.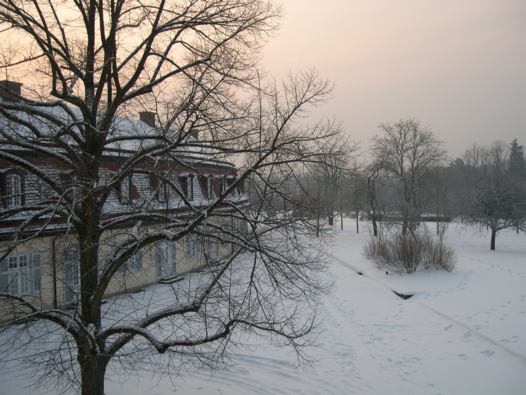 unplug at 7am
dachlawinengefahr

It takes considerable effort to pull myself away from the solemn comfort of the Solitude environment. From its clear air to its WMF Bistro coffees and T1 Internet access this place is research heaven. As can certainly be taken from the bright and spirited young artists that I meet here. So goodbye to the 600 sqft. studio and I hope to be back here one day. A fresh layer of snow awaits me outside. A fresh layer of mp3s inside Macedelica. Unplug now.

At the bus stop in front of the Akademie upon her arrival Frau Rosa walks over to ask if I could not wait untill after she has made me breakfast, or at least a coffee?

The chain of comfort: the ICE train silently cruises at 200km/h. In its restaurant even without a reservation I am seated and have my coffees and scrambled egg. I organize my mp3s and lean back.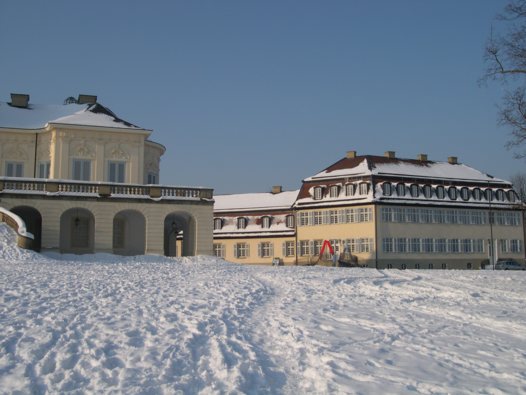 favorable conditions at Schloss Solitude Stuttgart
high solitude

The once hunting and leisure castle of Karl Eugen von Württemberg Solitude has lots of splendor in its winter setting. Mostly we are inside however, glued to our computers. At the end of Claudia's AWMT two-day workshop I summarize.

In the spirit of our daily browsing of infinite amounts of data/information/content, of which an origin is only partly relevant or even traceable — if only because such material is in the constant process of being reviewed, altered, recontextualized — a 'signature of information' has a different relevance from what we are used to with other 'content'. Whether we are looking at material, tool, or product is uncertain. Whether we are free to take, make or break the rules that might govern it is uncertain. How we relate to previous 'authors' remains to be found out. This is what is called 'launch-and-learn'.

Good practice develops in fair use and shared experience. To collectively build content also means to share the burden of gathering, managing and contextualizing or framing any cultural production which is supported by extensive resources. The database can be formatted in different output media, being customized for presentation to different audiences. To work on Claudia's database means to work in Claudia's database, from within Claudia's database, indeed like working in an environment which can stand quite some intervention without loosing its qualities. The physical space for this workshop's two day intervention nevertheless bears a signature, has been well-designed, to enhance the group's interaction and collaboration.

How far such a work can be allowed to drift away from its initial aim to relate material from the backgrounds of computer science, popular culture and Internet history is the responsibility not only of those who add to it but certainly also of those who take from it.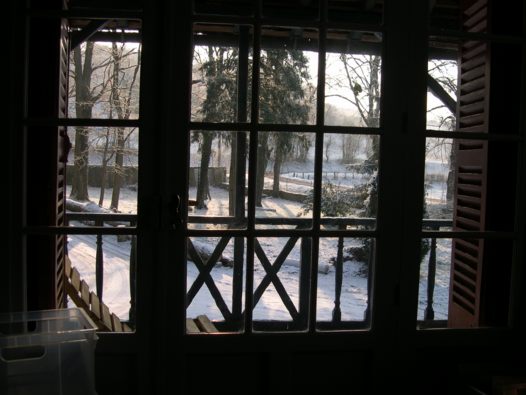 view over the desktop

Follow through
. Currently I am putting down a lot of words in Dutch in a private outlet. It is more like a correspondence, letters to (parenting) friends, letters to future readers: letters to R+r and their friends. Meanwhile I am on my way to Schloss Solitude to see Claudia Hardi and participate in her As we may think workshop. Sunday I will unexpectedly travel to Amsterdam, Monday a decisive Fusedspace meeting at Stroom. More NQP from Stuttgart later.




la fabrique sensible

In Paris I meet Francine and Evelyne. Francine and I go back 7 years, to A.B.'s NY apartment, the Printed Matter bookstore, and the Void; Evelyne I first and only met at the occasion of the Sites de création presentation in the Artazart bookstore in Paris. We talk books. We talk texts and their translation. My aim would be to make a book which understands a different way of reading that came along with hypermedia. A book which uses its material qualities to allow for a non-linear reading. Navigate by paper quality? Allow different phases of a text to exist in each other's proximity? Compress dispersed graphs which we live by to recombine on the page? Apply alternative folding schemes? An early example of a reader which allowed different readings in one page was the three column arrangement of 'art', 'nature' and 'art and nature' passages in otherwise linear texts to be isolated in different lay-out positions. This is Willem Velthoven's design for the 1992 Allocations book.









nqpaofu.com 1998-2005 Jouke Kleerebezem Notes Quotes Provocations and Other Fair Use

issue 95, 22 February-22 March 2005

issue 94, 1-22 February 2005
issue 96, 22 July-31 December 2005

portal
history
search

contact jk at this domain