[16 May 2003 ]

7 x 7

Loops bring back momentum. Rockin' it.

Ownership. The hungry view into the luscious sunny northern French landscape, scanning its horizons overseeing it while in rapid transit. On the train back to Maastricht I transcribe the entire paragraph on my online turf in Max's book. Still for every é I enter & e a c u t e ; for some of that good looking French.

Last night was worth every penny the detour, briefly talking to Pierre, then off with the Thames and Hudson Paris people to dinner and after drinks with Max. I meet Marie-Anne Couveu (if I read her hand writing well), who is the principal of Galerie Anatome which I plan to visit on a next trip to Paris. Of course I hope for some professional possibilities in this city or else in France. Another relevant meeting would be English-French translator Evelyne Chatelain. For a start I could ask her to translate lemoulindumerle.com, but I would be even more helped with a translation of some of the essays that I wrote over the past years to make a small bundle — in fine print.


16 May local colour the way we screen

Pierre di Sciullo (left) and Max Bruinsma (right) at Artazart (note the book in the lower right hand corner)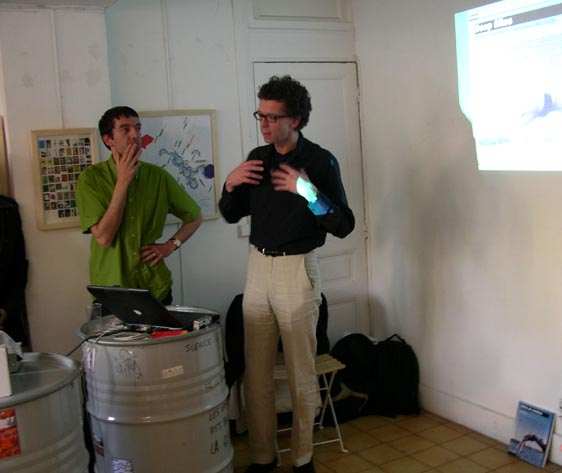 (page 127) "Le weblog, c'est une parole. Il exprime l'expérience quotidienne de son auteur, à travers des textes, des illustrations, des mises en pages, des choix éditoriaux, dont il est le seul maître. Les weblogs ne sont pas des critiques exhaustives qui prétendent mettre fin &agrave l'invasion de l'information. Bien au contraire, ce sont des manières précises d'exprimer, d'un point de vue personnel et professionnel, le monde dans lequel vit l'auteur ; le contenu est tributaire du vecu et les connaissances d'un individu, pour le meilleur ou pour le pire. Les weblogs reflètent l'ambiance et l'humeur qui correspond à la vie que mène l'auteur. Ils manifestent une diversité subtile et infini qui n'attire généralement qu'un public très limité : des cercles de personnes aux affinités communes." (Jouke Kleerebezem Daily Operations; the Weblog, 2001).


(page 134) "Grand critique de la vie sur le Web, Jouke Kleerebezem (voir page 127) s'est fait un nom aux Pays-Bas en tant qu'artiste et curateur. Il habite dans un manoir en pleine campagne française et compense son isolement relatif par une collection sans cesse croissante des sites Web, une façon d'ancrer fermement la demeure et sa communauté dans l'espace virtuel. La maison et ses habitants sont décrits sur www.lemoulindumerle.com, une 'homepage' qui porte bien son nom.

Mais le principal, c'est-à-dire l'analyse critique d'Internet, est ailleurs, sur le site intitulé Notes Quotes Provocations and Other Fair Use. Avec un nom pareil, ce site met tous les chances de son côté pour se retrouver dans vos 'favoris'! C'est à la fois une base de données des écrits de Kleerebezem et un blog rempli de références sur le Web. Pour résumer le concept à la fois politique et culturel du site, Kleerebezem déclare: 'NQPAOFU est de l'édition personnelle plutôt qu'une publication personnelle ; un processus, une acte plutôt qu'un produit. Le rythme quotidien, le mélange d'informations, d'analyses, d'opinions et de critiques à la fois personnelles et 'professionnelles', les liens avec des autres weblogs, tout cela conduit &agrave une connectivité qui, à mon avis, constitue la véritable 'profession de foi' qui se cache derrière le propos.' Grâce à une typographie nette et claire et une absence presque totale d'interface, à l'exception des nombreux hyperliens internes, Kleerebezem démontre que le Web est un seul texte si toutefois vous avez assez de


(page 135) créativité pour combiner vos notes personnelles et petites provocations avec une utilisation 'juste' des citations d'autrui.

A la lecture de 'First Things First 2000', un appel international à la responsabilité sociale et à l'esprit critique des designers graphiques publié dans Adbusters et dans de nombreux autres magazines, Kleerebezem c'est énervé contre ce qu'il considerait être de la 'bonne conscience' gratuite rédigée par une bande d'idéalistes de salon grassement payés et il a décidé de réagir: il a posté une critique féroce sur la liste de diffusion de Info-Design et, dès le lendemain matin, a réservé le nom de domaine www.idie.net, 'car c'est dans les réseaux de communication que le pouvoir de l'information émerge à l'heure actuelle.' Le site, surnom&eacute' 'I DIE for change' (que l'on pourrait traduire par : je crêve d'envie de voir les choses changer), est une sorte de plateforme militante proposant des essais critiques et des déclarations de Kleerebezem ainsi que des liens vers de sites d'artistes, de designers et de théoriciens qui défendent une approche activiste et critique des nouveaux médias, de la soci&eacuteté d'information et du Web. 'Je voudrai, explique Kleerebezem, que idie.net soit un projet plus collectif. Il aurait beaucoup à gagner d'une participation active, de recherches multiples, d'une production et d'une édition dynamique.' La simplicité de la présentation (une seule page avec des liens internes, écrite en HTMl de base) est une déclaration d'intention en soi. A mon avis, même si Kleerebezem reconnaît que le site est 'plus ou moins bloqué à son stade infantile', c'est l'une des meilleurs critiques que 'First Things First' pourrait espérér !


1) Les initiales NQPAOFU sont aussi celles d'une citation latine, devise [d'origine, JK] de Kleerebezem: "Nunc Qualibet Parte Alloquium Orant Fratres Urbanitatis" (à présent, les frères citoyens font leurs sermons là où bon leur semble).


(Max Bruinsma, Sites de création; innover sur le web, traduit de l'anglais par Evelyne Châtelain-Diharce, 2003, isbn 9 782878 112276)