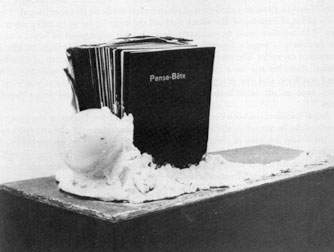 Marcel Broodthaers,
Pense-Bête
, 1964
"Here you cannot read the book without destroying its sculptural aspect.
It is a concrete gesture that passes the prohibition on to the viewer—
at least that's what I thought would happen. But I was surprised to find that viewers
reacted quite differently from what I had imagined. Everyone so far,
no matter who, has perceived the object either as an artistic expression or as a curiosity.
"Look! Books in plaster!" No one had any curiosity about the text; nobody had any idea
whether this was the final burial of prose or poetry, of sadness or pleasure."
(MB, 'Ten Thousand Francs Reward', in
Marcel Broodthaers
, 1974)