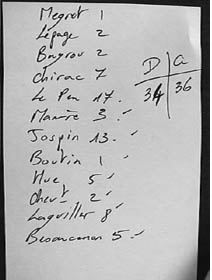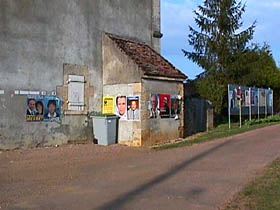 the St. Germain des Bois vote count (in fellow council man Piso's handwriting),
which more or less follows the national trend in its 34/36 Right/Left division
—if we want to divide along those lines, as the French still do,
but which in the current situation seems irrelevant, with no informed vote
but protest voiced throughout the spectrum of a record amount of
16 first round candidates posted on our
Mairie.
BTW: yesterday's Moulin du Merle 1930-ish image was left for me Sunday morning at the voting office,
by Mme. Reynes from Cervenon, who found the glass slide in a tiny metal frame when she was cleaning out her attic.