* whatever went before



29 June 2001

sensuality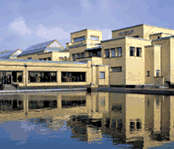 the temple of childhood dreams



Hans Janssen, now curator at the Haags Gemeentemuseum, where this spring he finished a Bacon retrospective (the museum where my love for art awoke at a young age, when my parents regularly took me there in the 1960s, to see Mondriaan, Dali, Bosch, Tapiès—the major shows which I remember—and marvel at their fabulous collections of early 20thC Dutch avant-garde, historical furniture and a large musical instruments section) (when I look up their site and see its interior after restoration (see the 'mini-books'), I get flashback upon flashback, realizing how deeply Berlage esthetics informed me, just as much as the art which is hosted by this childhood temple of dreams), so Hans J., a friend from Groningen where he studied art history while we ran the De Zaak artist space in the 1980s, once admitted to me never to have been moved emotionally in front of a piece of art, while at the seaside a sunset could bring tears to his eyes.

The sensuality which my own work sometimes evokes with me (yet which is clearly not its main objective nor inspiration, though one can't simply admit that, it would be a long discussion, investigation, interrogation—later, always) strikes me. Titillation even, might result from a bright idea, a sudden insight, a simple solution, an image, one single word which lifts a project to a next stage, the proper experience of a flow of thoughts, connecting patterns invading, a movement of mind forward and backward through its various links, navigation just manageable, irresistibly leading one somewhere, drift anywhere.

Now I'm generally not stimulated sexually by other people's art work, unless it is explicitly provocative, in its rather limited though not necessarily hard core sense. The eye of the beholder is sensitized by lots of different esthetic moments, in every field of vision. Still, something of that lack of deep arousal which Hans J. noted years ago, holds true. Earlier today my thoughts referred it to these media which we are using day-to-day. Media which offer no friction to the skin, don't make the hairs on your arm rise, don't send shivers up your limbs. The web, as a medium, is truly unerotic. Only very occasionally its connectivity, its accessibility, its infinity, its timelessness, will bring tears to our eyes, or heat our blood, in a moment of inspiration.

The Haags Gemeentemuseum website, linked above, means absolutely nothing like the Berlage building does, thereby showing an absolute fiasco, when media, their creators and patrons, might, no: should, compete. Inside, I see the naked cigarette box in a simple frame, a few pencil strokes, some graphite, just some grains of it, left on the cardboard skin. I know nothing. I look at it again. My parents and sister have moved on to the next space. I look closer at that flat box, those lines.


---

28 June 2001

side log

Working on a new site specific sorta log. Not lemoulindumerle.com. More like an easter egg hunt kind of URL hide and seek. Like the original enclav' exquise. For a limited geographical area. Not France. More like the oldest Dutch town and its surroundings.


---

20 June 2001

whatever

Underchallenged transactions produce but waste.


---

19 June 2001

challenge

re: Dirk's discussion of how to make a living as an artist (which he's currently revising, so cannot be linked now). The ultimate frustration to any artist is when his or her talents are underchallenged, either by the environment, or by him or herself. Most jobs underchallenge the artist. Most art world contexts do. The media do. A lot of artists do underchallenge themselves.

Being structurally underchallenged (in a job, in a market, in the studio) makes an artist depressed, even more so if s/he cannot or doesn't see a possibility to escape. How to escape an underchallenging commercial market, and make a living? All economics aside (even as a metaphor), you don't want to be commercially challenged, but artistically. My only true challenge as an artist is to exploit, to exhaust my talents, ad fundum, disregarding any (facilitating) societal contexts, but those which the work itself invites to, or catalyses. It is egotistic, but doesn't have to be anti-social. It is not about, nor against 'money'. The use of talent is no economy, even when Lat. talentum means gift, and large sum.

There's never an excuse to underchallenge oneself, but their's always plenty mitigating circumstances—especially for the 'interactive', context sensitive artist, who is not like the isolated wild talent to whom attention might even go unnoticed, being so attentive, so focused to the work at hand. That kind of ultra concentration every artist knows so well: it is the source for unrivalled joy, but shouldn't be the permanent state of artistry per se.

At the end of the day, the best challenge to an artist is by other artists, historical or contemporary alike. Respect buys challenge.

Finally it was also Dirk, who the other day reminded me of this NQP quote:

Every culture deserves its site for the purposeless, the un-believable, the un-worldly.

search

Of course! we could only 'reduce' or concentrate the web, to 8-9 search engines!


---

18 June 2001

concentrate

How about reducing 'the' web for oneself, to some 8-9 sites? Would that be like reducing world literature to some 8-9 books? Or like reducing social life to some 8-9 friends? Wouldn't that feel comfortable? Wouldn't it be real? I know I theoretically try to face 'whatever' without 'selection'. Because I think this should be done at this time and age, because 'whatever happens' is some last phase in traditional industrial commodity thinking. And the next big thing is announcing itself as something navigational under new organizing principles. And other traditions have faced everything and whatever under different lights and whether called the void or God, everything has been on our minds since whenever times. So yes, if 'we' are going to build that new navigational system and philosophy among ourselves, we better face that whatever, instead of constitute more pre-selected channels.

With all the connectivity and hypermedia and 'new' economy—and related interface and usablility and accessibility 'design' brouhaha that we've been exposed to since well over a decade, apart from inventing the web and some search engine refinement, NAVIGATION remains completely under invested in whichever way.

Somehow I think a lot of our functional (re: work and play, knowledge and communication) problems, or hesitations (which' solutions would feed our imagination and possibly catalyse whatever singularity) are related to that lack of navigational challenge. Current forces at work will prevent singularity for a foreseeable future.


---

17 June 2001

'scheppen gaat van au!'

lemoulindumerle.com gives a lot these days. Wonder if I should take NQP home to it. Things are growing closer from all sides.


---

15 June 2001

I wouldn't want to live any single one of the 'other' lives, but I'm deeply grateful to 'have them lived', ostentatiously, around me, in this time and age to have them shared and delivered like they are, by those both so fortunate and so challenged, in all possible ways, all the time, to live them.


---

14 June 2001

A medium whose essence is the overlapping of images, collage is literally based upon the logic of the coverup. In collage, however, this logic works not as a technique for blocking thought, but rather as a model of the mind's fundamental process of representation and symbolization.
(Eric Olsen, Theory and therapy)

Man makes and maintains sites. Hypogee, Dirk, is more radically courageous every day. But to answer to his publication requires more than a simple link. And, coming to think of it, I do consider publishing a weblog in many ways a courageous undertaking—the more we're accustomed to its 'genre', the more so.

Cherishing the hesitation to publish—when making does not presuppose reception. Here we're hitting on an old discussion...

Proto weblog: On Kawara's date paintings, and his "I'm still alive"s.


---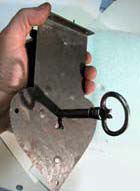 (12 June 2001) Late May I doubted NQP's form a lot. I jotted down the below and discussed with some people a change of format. I was busy. For different reasons only now I can pick up the thought. Again it appears to make sense to examine the format. Also, to test it as a 'life's project'. Love it or leave it... If the first, how to shape that love, how to share it.

1 June 2001

MIMO: media in media out
I'm (once more) considering a different format for NQPaOFU. It occurs to me that the current format doesn't serve me best. Rather I'd make it for myself and a few other people, so it would be more private and intimate and idiosyncratic. Or I'd make it for my kids and it would be more private and childish and 'pedagogical'. I'd make it for you and it would be more for us. I would probably end up doing several (micro-)editions, which would be distributed in closed circulation, at a strict 'promise not to link' condition. Like I write different mails to different people, like I considered the weblog a corréspondence in the first place, rather than a journal. Among those who inform it most it thrives most. Doing ever once in a while something else for a wider audience. And mix the two at whim. Like sometimes now I'm mixing NQP and email, or NQP and snail mail or NQP and personal attendance. Mixing different forms of presence.

I would not lightly decide to close the current outlet. But it is a/the serious option. Consequently, frequency 'here', or in the 'issues', would become more like the moerstaal frequency, possibly accompanying another publication in another medium for another constituency, like when I (get) publish(ed) in the public realm proper, or it would just follow its own urge, which is becoming different from three years ago when I started.

'promise not to link'
Apart from (other) personal reasons, I recently came to doubt the public eye. I find it invasive. Imperialistic. For an artist to be a public figure, doesn't always produce the best work. At times. Coming to think of it, in a recent acquisition, the Art Vivant issues 1-18, this is what is written about Yves Klein:

Il y a deux façons, pour un artiste, d'être mal compris. La première est de ne pas avoir succès. La seconde est d'avoir trop. De grands artistes, au succès mérité, sont devenu célèbres très jeunes, pour des raisons qui semblent après coup fort sujettes à caution.

Now I wouldn't want a push format. Those who know where it is, will find it there, without further notification. I myself check irregular publications, like the really irregular weblogs. I just step by to peak into the window whether some new wares have arrived. For (what would remain of) regular NQPaOFU, the portal, I might start email notification on request. All depending on whether or not regular updates would occur. If very little, notification would work when I work, at lemoulindumerle.com or idie.net, or nqpaofu.com indeed.
* whatever happens



29 June 2001

radical pruning

Rewarded. Looking closely at the old apple tree, I spot two, no four, no seven or more pieces of fruit developing... I cut it back but for two branches last fall and wondered whether it would survive.


---

28 June 2001

les vacances

After tomorrow. We're all tired. Today R+r brought their work home from school. I'm amazed at what they did. This was a good year for them. And us. We always said we'd give it three years. Guess we're staying.

meanwhile

Hans and Rini bought the Parigny la Rose house today. They just left, after dinner, to spend their first night on that hill. Curious to know what will wake them up tomorrow. Probably the silence.


---

27 June 2001

hot, hot, hotter

I did a record NL-F transfer, speeding the car all windows open, letting in the hot air in NL, the hot air and Pine smell in the Belgium Ardennen and the hotter air and Rose and Mint and Hay and so many other smells in F. It took five and a half hours door-to-door. Only half an hour in, a violent first summer thunder storm hit the house, when I was just guiding revisiting Coco from the vegetable garden (where he had moved into from his fenced off piece of meadow) to the island. We had to run around fixing and catching flying objects even chairs and buckets, close the shutters and attic windows, then admire the yellow skies and electrical blue bolts.


---

20 June 2001

publish

Yesterday I returned Le Mazot's Philippe the manuscript which describes the birth of their first two children. I find the farm yard empty, the dogs don't bark, the big quiet one is asleep in the shadow, no one answers my calls. The door is unlocked. Remains of lunch on the table. I call. No answer, so I leave the manuscript on the bench and leave. Across the road, down to the river. No Philippe. I'm reminded of Morselli's Dissipatio Humani Generis. Then I see an old red tractor coming down the hill behind the farm. I wave and someone waves at me. Can't see who it is from the distance. We discuss publishing. I find Philippe has been writing this journal since 1983. On his work at the organic farm, the why and what it feeds him. I propose to meet him and Patrick of La Grange Treillard (who will come down from Paris for July), to discuss a web based publication and offer lemoulindumerle.com as a venue.


---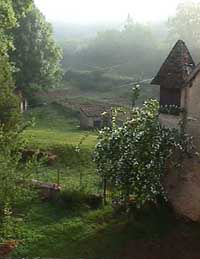 ---

18 June 2001

community news

We're the agent for another house nearby. The former presbytery in the St. Germain des Bois bourg: the old part on top of the hill, where also the church, the Mairie and the monument are. The property is very well maintained and beautifully situated. Of St. Germain's 9 houses, 4 serve a permanent residency. How to proceed for community to develop would be the next question, before selling the house.

With Thurigny's (the St. Germain commune consists of three hamlets: St. Germain itself, Thurigny and Cervenon, currently totalling 105 inhabitants) Fontaine couple and Madame Lardeur in the hospital, and some of the French people owning a secondary residency ageing, we'll face a change of community over the next ten years. Masson, Moussot and Seutin will continue the agricultural business. Some of the other younger generation have jobs and are not likely to leave here. We're not likely to leave, but who knows what if R+r go to university or get a job in 10 years, and our generation is ageing. Where will we want to be? With whom? Any of our 8-9 friends on the left interested? It's no Celebration, yet.


---

17 June 2001

This morning first was Germenay, where nothing much was going on around 8am, then Brassy, 45 minutes later, where nothing at all appeared to be happening apart from this off-the-road motorbike rally of some kind, then Lurcy-le-Bourg for appr. 10 stands of bric-a-brac, finally Mont de Marré where we bought a set of oak front doors, totally de l'époque.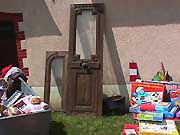 double oak and glass doors (one stored behind that wall), including transom window, at the Mont de Marré sale



Father's Day: R+r+me made our own pasta, mixing five of our eggs and the grano duro I bought in Rotterdam recently. I added bacon and sweet peas and spinach and everything came out al dente de luxe. R. sculpted this pasta dough shrunken head that came out all swollen, as if stung by bees, with allergy, like he himself. Later he insisted on sleeping on the first floor landing, where we just installed a bed yesterday. I remember having read of Goethe's kids, all four(?) sleeping on the landing.

Over dinner R. was reminded of his babysitter Emma, who (he reluctantly told us before only once, maybe 3 years ago, and the story then seemed too bizarre for words, though we didn't invite her after), would force him to lie down in the bathroom, to sit on his stomach and pee on him. Some babysitter. She seemed like this shy girl. Emma must have been 12-13 at the time, R. 4-5 year old. I am convinced this happened exactly as he remembers it today, also because he speaks so relaxed about it. Of course it makes me vigilant. Things like this take parenting to a whole different level. Just hope he doesn't pee his bed tonight. And we wonder what Emma is doing these days.


---

16 June 2001

I translated the AquaJogger manual for Céline, who teaches R+r to swim, at the Clamecy pool. Actually Babelfish translated E-F their web docs. I cut and pasted it into something of a manual. It was printed in blue, since I ran out of black toner. It's just as hard to find around here as the AquaJogger manual in F. The title of the doc on my harddisk is AquaJogger in F minor.


---

15 June 2001

Thierry M. drops another pile of material next to the two sand heaps: this time it is stones. Apparently we are going to build a dike to protect us this winter against high tides.

Jasmine half-way. In front is improv potato land, where once was The Other Heap.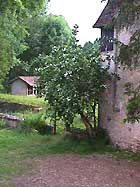 ---

14 June 2001

We're Juning. I sketched the kitchen with some smart ideas. Hope to knock it out this summer/fall. Every morning I walk down to the sousterrain storage (which' plan is exactly the same as the kitchen+loo's), then over to the royal loo, which will be added to the kitchen, offering it's new space a NE window on the (vegetable) garden, and generously letting in the morning light. Also we'll lower the W window on the mill pond all the way down to the floor. Then the sink will be a long gutter, 'pointing' out that window, guiding water to water, like in the old days when the window sill served as a proper sink. With the ceiling to floor window on the pond, I imagine to one day build from there over the river, a platform summer kitchen above the stream, serving as a bridge to a glass studio on the island.

empty nest

Our duck left the nest she has defended for over 2 weeks, and at the end of the day it is empty. I didn't see the eggs, they were well covered, but Gil's convinced there were. Anyway they're gone now, without leaving the tiniest trace. I'll pour that cement tomorrow into every even the smallest of holes. I know that's late.

jasmine

The jasmine is half buds half flowers today. Half smell.


---




prune, rose indien, paprika, écume de mer



13 June 2001

Now playing: Nusrat Fateh Ali Kahn's Rapture. Later: Talvin Singh's Ha. Later: Nick's Hallelujah.

meanwhile at the Moulin

The Black Redstart (Phoenicúrus ochrúrus gibraltariénsis) offspring trains its flying skill in the horse's barn, diving between beams. The adult constantly sounding its chirpy clicking alarm call for the cats.

Two large heaps of sand sit in front of the house in our garden. Thierry Moussot dropped them here at Gil's request. You can see the tractor tracks in the grass. They will serve to heighten the border of the Beuvron on this side. It is here that the waters first enter to develop towards the house. When having got rid of one old heap, I find two in return.

Yesterday we made a round of the premises. I inspected the second small vegetable garden which was ploughed by Thierry. He hit the small water basin which was hidden in the long grass and served as a water cress nursery. We pick it outside at the fontaine, at the crossroads and imported some plants here. Concrete flew around. Luckily he missed the drain and I can restore it, improve it. It will be part of the slow development of this part of the garden. We're only starting.

In the large meadow we noticed another walnut tree, one large branch broken, hanging over the field. Like the small tree at the narrow passage between the vegetable garden and this prairie, it bears only little fruit. Wonder what it needs to make it more productive.


---

11 June 2001

Maastricht-Rotterdam-The Hague-Paris-Moulin

First, the past week was the most exhaustive work week since I started at JvE. We had guests from NL (Jan van Toorn), Canada (Michael Longford, PK) and Australia (Tim Marshal and friend), we had passionate but hard discussions in department and staff meetings, the researchers had organized a barbecue sort of to celebrate the end of the semester; then it was great food and gardening with Paul, already calming me, and grand shopping at Annick Goutal (via RT and PP), Eau du Fier and Eau du Sud, plus books, Gombrowicz's De beheksten (the bewitched) which I almost finished on the train, and music, Talvin Singh's Ha and Nick Cave's No more shall we part and Nusrat Fateh Ali Kahn. Also Italian ingredients, mandorlas, pasta flour and rocket sauce; followed by sea, fishing on the pier, looking at fishing on the pier, the sand beach, anchovies and beer, at Scheveningen, watching the Stad Amsterdam 3 masted clipper(?) very slowly approaching, taking its time as if it had to cross it, later that evening family and friends at Isabelle and Ritsaert's, when I nearly fainted on a medical story; finally dear Andrea at the Musée d'Art Moderne de la Ville de Paris, one night at Seyton Smith's new Arts et Métiers apartment, discussion over lunch on the tricky subject of couples and singles (we'll never get it right...), and aquariums, which she gets right; then return home, to take a fresh look at where we are (heading).