since 1998
nqpaofu#29 memory high : disclaimer : must link : myURLs : previous issue : next issue
notes quotes provocations and other fair use
conversational drift, informatic license
by jouke kleerebezem

the mark of launch-and-learn publishing: corrections are generally made within 36 hours.
grey (#DEDEDE-#777777) text paragraphs are subject to editorial scrutiny and should be considered temporary.


contact jk@ciw.net


---
13 June 2000
fight natural selection




Animal Farm banner sketch, to be installed with mascottes and CITES citations for NL extinction
So I changed the idea for my Animal Farm festival piece. Made it portable. And political. I'll produce a banner to hang between two poles, one crawled over with animal mascots, one labelled with the names of NL extinct species. Culture is our Nature.
---
12 June 2000
state of shlep to the min

estate logistics
...are best served when you do as much as possible anticipate your immediate and subsequent actions. In our family we used to say 'never go empty-handed', while we were only a small household of four, living in medium sized places. Now on the 1,76ha grounds this habit makes a lot of sense. Everyone drops and picks-up things in the passing all the time. Inside and out. Such practice this week-end helped us through deep gardening: weeding, planting, watering, displacing the compost heap, jasmine surgery: tools and watering cans and pots and buckets with soil choreographs.
---
11 June 2000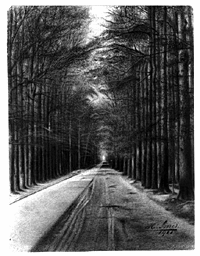 'Souvenir d'un voyage en Hollande. Passage en voiture de la Middachterallée le 24 Juillet 1953'
Signed H. Smit 1911. 205x155mm., conté on paper
Dutch winter landscape
I bought this very detailed drawing yesterday, at the Clamecy maison de vente auction, to find afterwards that it had the above typewritten inscription glued to the back of the frame, including the underlining. No wonder we liked it at first sight: it's home...

(...this is interesting: Middachter Allee, around 1908, according to the publisher's data...)

These auctions are wonderful events. We go there to improve our French, browse the local culture by going through its bibelots and books and prints, wonder about the moist farms and maisons bourgeois, now being bought by étrangers like ourselves, in which these artefacts charmed or served generations, see the other bidders (it's a handful and they're all French) and try to figure out who they are and why they buy stuff, find the occasional good buys, like this drawing (which by the way reminded me of Erik Odijk's GIANT charcoal landscapes, which I got to see first when we exhibited in Vilnius, currently 'under construction' at Stroom, the Hague (6 June-12 August), so if you have an opportunity, go there, especially when he is working on site till the end of this month). With the Middachterallee came an assortment of small prints and collage and painting, all stained and falling apart. And I bought this lot of 8 (4 intact) cast metal art-nouveauish knife supports (porte-couteau), in the shape of a long-necked goose, with a frog in its beak, and a long boar, like a dachshund.



Le Moulin du Merle/lemoulindumerle.com


structural scheme of the still existing 17C foundation of the water mill. max outside depth =68ft, max width =40ft.

The original mill works, some of which remains, was in the yellow part. The Beuvron river streams left to right (north), along the scheme's top side (facing west). In the current use, the green is logistic and connective space: staircases, hallways, entrances, over 3 floors; the blue is supportive: storage, kitchen, bathroom; the yellow is restorative: dining room and bedrooms, the purple is productive and representative-restorative, the basement studio, the salon and bedrooms; the red is productive, studio and library and guest rooms. All later extensions (especially the entrance east of the green space—not in the scheme) have been set on top of it.
---
10 June 2000

yonder
FYI, and to hit the update charts out there: all NQPAOFU activity is over at the portal, working hard for it to be ready to ship as index.html.

meanwhile...
let me take you all the way back and forth.

lemoulindumerle.com
Taking up the production of files that describe the Moulin's distinct spaces. It does give me a feeling like rebuilding the place. Meanwhile...

Le Moulin du Merle
Since Jan started measuring and mapping the house we are looking at it with different eyes, looking for change, looking for building it into a different place, returning to it some of its older division, by refurbishing it for future comfort. The basic structure dates back to (late?) 17C. This can only be witnessed in the old mill, currently the machine room, where there's the 1697 inscription in the arch's keystone, over a small two step stair. The 4 level structure of the current (mid 19C) villa is built on an original 5 room founding, with its 70cm thick walls at ground level.
---
9 June 2000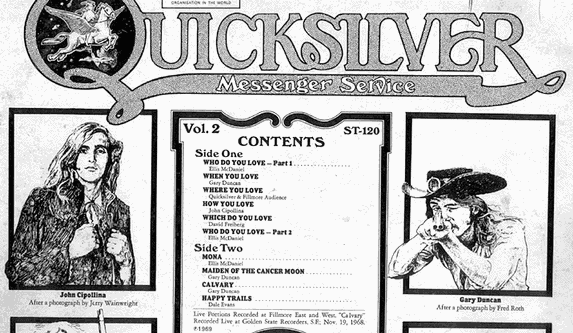 guitars john cipollina and gary duncan of quicksilver messenger service, 1968
sic transit gloria

Push me comforting links and words and tips. Schemes for evasion. I'm looking deeep into my economies today... vertigo... not a single spark of light at the end of the shoot, downward spiral. Fight bureaucracies, everywhere! Lift me up: hire the hermit prostitute. Tell me how to make ROI hit the fan. While outside the fair winds blow to spread the pollen on waves of light and warmth and purple grasses push up brightly backlit poppies. Lift me up. Lift me up. I can see the light... or is it the bailiff coming?

Several hours later I'm still courting Beauty. Beauty, mind you!

Listening to Quicksilver Messenger Service's Happy Trails: Who Do You Love. This is very much where I come from, like 1968.

Greil Marcus: "Quicksilver goes into it at full speed. John Cipollina's guitar alternately harsh and sweet, clashing with Gary Duncan's rhythm, Greg Elmore's drumming simple and solid, never an iota of sloppiness, not a note missed. They use the infamous Bo Diddley rhythm not as a crutch, not as something for the rhythm section to play with while the lead takes it; Quicksilver finds dimensions of that 'bump bubby bump bump-bump bump' beat that no one has even suggested before, as a motif or a bridge, as an idea rather then as a pattern."

...I walked forty-seven miles of barbed wire,
I got a cobra snake for a necktie,
I got a brand new house by the road side,
Made out of rattlesnake hide.
I got me a chimney made on top,
Made from a human skull,
Now come on, take a little walk with me,
Now who do you love?
Come on Arlene, take me by the hand,
Let me know you understand,
Who do you love? ...
Ride nine times on the midnight train
Through the fire and cold rain,
Who do you love? ...
I've got a tombstone hand in a graveyard mine,
Just twenty-two and I don't mind dying,
Who do you love? ...
---
8 June 2000
are you dotcomfortable enough?
Have you prepared the right (and enough!) domain names for the coming 30-40 years of active informational citizenship? Give it some thought. They're necessary capital for your own and your offspring's future reference. Don't set aside a dozen magnums Veuve Clicquot Vintage Réserve, for your sugar 'n spice's 18th birthday: giveagirlabreak.com! (still available)

lemoulindumerle.com
Woke up at 6am and started preparing 60 files from a template to make the moulin's spaces and grounds clickable inventory. Tried my Mavica but it still gives a (capitalized blinking courtesy Sony). Don't know what the 404 that means, but the nearest repair shop might be Paris... just when I need these images to go with the words.
---
7 June 2000
Le Moulin du Merle
Jan finished his sketches and measuring. We find the model for an extended kitchen in the storage room downstairs. Over four floors the spaces' measurements are identical, be it with different heights, and different wall thickness. In the sousterrain they measure up to 70cms, on the ground floor 60cms and first floor 50. Henk helped kicking the vegetable garden in a new gear, when Gil and he weeded another two beds, and planted. As much as he is larger than last year, it is harder to control it and keep in pace with the season...
---
6 June 2000

In an age of information, communication is your only security

updated
moerstaal ('de krant is de lezer') and the portal, your other urls :-)

meanwhile...
My parents did not trust to leave my sister and me in a world with a cold war and nuclear threat over Europe. There's plenty reasons still not to trust this world. So do I trust a world, in which to leave behind R+r at some point, with a medium like the Internet/www around? I believe it will be their only security.

Le Moulin du Merle
Jan (who's an architect by education), measured the ground floor. We deduct some interesting information from his findings. Probably the villa's toilet originally (=mid 19C) was split off of the kitchen (in the previous 17C mill) and a small extension was added to allow access from the hall. Meaning: if we would enlarge the kitchen (reducing the wc to a contemporary size, instead of the current 10X4ft), we would return it to its original size, and most importantly reopen it to an original window, facing north-east on the island and vegetable garden, filled with light in the mornings. Since all the 17C walls are 2ft thick, we're pleased to find the separating wall between kitchen and wc measures only 6".
---
5 June 2000
the other url

for the check of it
Consider the next part of NQPAOFU 'under construction' (haven't hit on a site which sports that line since ages...) for a while. True launch-and-learn practice is no fraud. At nqpaofuportal-index.html (bookmark #nqpaofurealstart, to skip the head) I've been practising some debriscollage for the future of three sites. Some material heaped up there which didn't make it here. And then there's the 'under conception' parts. At some moment it will be the only file to address the three monitored publications from, NQPAOFU's very index.html. Not yet, but it'll have the most updates per twenty-four hours. Promise.

A three-in-one site wouldn't do it for me. After all, a domain is more than just a site. These three will be very different in scope, style, function, prospects. NQPAOFU is real enough, the current core of my online activities. Permanent. My best personal bet.

idie.net should be a collaborative effort. It is very topical, conceptually sound, forward thinking, but in a state of intellectual and maintenance neglect. This site could grow fast, if only there would be like a small editorial core to feed and form it. I keep it up for the keeping. If someone would pay me to spend 10 hours a week on it and contribute to it and edit and invite and pay the guest authors, it would be in business.

Finally, lemoulindumerle.com. I've been thinking to register the domain since I bought the property, soon to be 2 years ago. Moulin faits divers have been an important part of the weblog since. A few months ago Paul suggested the domain to be part of the house and eventually, consequently, sold with it at some moment. That made it click for me again. A domain as the final upgrade of a leaking, overgrown, partly demolished, haunted piece of real estate. A contest in longevity. I'll register it today. And I'll build it like I should build the house. In detail. Solid. Whimsical. A true palace of html fancy.

So this is where it could be going from here. Unless of course I die tomorrow, or loose interest. Ha!, life's insecurities are many.

Le Moulin du Merle
More heat, more water. Actually last night two thunder rains passed with big bangs and the pouring hasn't stopped. All doors and windows are open and the smells are great. What a joy to be htmling away in this drizzly decor.

meanwhile...
It doesn't seem like the Volkskrant published my discussion (yet). Hm. It would be a chance missed to generate a more knowledgeable discussion in Dutch media on the Internet craze and why it is going to be seriously different from popular belief. If it doesn't turn up this week I'll call the editors and propose to write an essay instead. Or propose to the NRC (the other and IMHO better daily. The one I'm subscribed to, and our family was. The traditional 'liberal' newspaper, which is only a minor shortcoming in election times, as my dad always figured, from his leftist opinion in the 1960-70s...)

cross-meanwhile...
No they don't need it at the Volkskrant. 'Thank you very much indeed but we've had a lot of other reactions' etc. So by return mail I proposed to write a more general essay on Internet misconceptions in popular media, and see what comes of that.
---
3-4 June 2000

42/54
60 hours and 584 submissions later the poll at Eatonweb seems stable at a f/m 42/54 ratio (27 replies, or 4%, say 'non of your business'), among webloggers. Eatonweb's weblog portal currently lists 884 weblogs. A total of 611 submissions off of that list would be a 69% return.

- IDC also found that more women are logging on to the Internet. On average, 41 percent of European Internet users are women, but compared to one year ago, this share has increased by 5 percent. IDC expects the development to continue, and predicts that as many European women will be surfing the Web as men by 2001.
(from 1999 numbers, by the International Data Corp, 'Europe Sees Big Gains in Internet Usage')

Of course I had hoped to feed my intuition that weblogs, personal publishing, could serve as an example of the use of networked media in a specific way, taking advantage of Internet affordances, at the same time challenging certain principles and interests more prolific with women than with men. This still can be the case of course, but should be proved by quality, rather than quantity, which demands serious research into content matter and style in personal publishing. If any of my readers come across or know of such research (or existing material/literature which reviews Internet affordances in the context of gender specific differences, I'd be very interested to know.

Le Moulin du Merle
Yesterday was our wettest day since we moved here. For the first time this early summer, the heat in the afternoon drove me into the pond, where R+r and later Piet joined me, chasing after fish, marvelling at the colonies of tiny fly under the bridges and removing drift wood from the mill's canals. In the evening dusk, just after dinner in the garden, we had the most evil downpour so far, a thunderstorm with an incredible shower, which was announced by a house covered in condensation: sweating walls, floors, stone tiles equally affected as wallpaper or painted surfaces. So I closed all the blinds and opened all the windows and doors to allow as much ventilation as possible. After we listened to the thunders roll by, watching the striped lightning's patterns on the wall.
---
2 June 2000
Le Moulin du Merle
(To the woods. Once more). Earlier I saw the amazing pollen release from the purple grasses along the high road above Cuncy les Varzy. Like clouds of water damp, or smoke indeed, with every stroke of wind it ascends from different spots in the field, to thin quickly into a veil covering the entire hillside.
---
1 June 2000
Le Moulin du Merle
Hot day at the villa. Short night too. 3andahalf hours of sleep. As Gil joined the repair crew at the St. Germain des Bois salle des fêtes, I slacked with the boys. Later cleaned for newly arriving guests: Piet, Laura and Diederik. Vacuuming and listening to fat phunking barrel beating Billy Cobham, and Canned Heat... bumba bumba bumba boogie.
---
31 May 2000
gender tender

moerstaal update: 'Het Internet als stofzuiger'
As a reply to the Dutch newspaper Volkskrant's Friday 26 May article (based on an interview with the new associate professor, for the feminist magazine Opzij chair, at the Center for Gender and Diversity, at the Maastricht University), on the backlog of women in Internet access and use, I sent a prompt 1035 wrd letter to the paper's Forum editors. It is in Dutch, on NQPAOFU's sister moerstaal, since this morning. Dutch readers/publishers please forward/link to its URL http://nqpaofu.com/moerstaal/mtnl2000/mtnl1.html#31mei2000.

a female principle
As part of my above argument in the Dutch press my intuition has it that (contrary to what said article argued) there's no backlog in female Internet use, when you consider using it as a means of communication and publishing, rather than as an unlimited entertainment channel. In other words: girls use the Internet/www in a more medium appropriate way than boys. They are less impressed by hybrid public space and less scared by unverifiable identity, less focused and therefor less dependent on reputation and status, they have a superior understanding and appreciation of the delicate mix of private and public expression and discourse. OK. This is my intuition, and by far no outcome of research, yet I experience these qualities, certainly in (parts of a) weblog community. It is not about my personal content preferences, it is about where I think female principles count and make a difference. It is used as an argument against very far fetched and banal pseudo-academic, yet officially chaired feminist academic discourse, in a Dutch context. To explain the exact context here is beyond my ambition. But I need some feedback to further develop the argument.

I asked Brig Eaton whether she had any numbers from her long weblog inventory, on woman/man ratio in the weblogging community. She hadn't but was so kind to put up a poll at her site. If you have a personal site, or weblog, in the very wide definition that this phenomenon has, please use the poll and provide us with some feedback on my simple intuition that no, there's no backlog in intelligent, committed, personal and envelop pushing use of the Internet/www by women. Oppose popular belief and Dutch academia's disinformation. Thank you for your vote. Give us some indication. I'll use the outcome of the poll at my best capacity.

FYI: figures used in the article counted 'being online' (undated, not specified) for 14% of Dutch female and 28% for Dutch male population. Numbers... jeez.

Watched the votes come in at Brig's until late. Like watching election results. Blogger linked to it. Thanx. Around 40% of the respondents is female, little under 60% is male. So far. Which makes the f/m ratio roughly 2/3, instead of 1/2 as was given in the Dutch press for general access. To be honest I would have expected a higher number of women turning out, we'll see how it settles over the next days.
---
30 May 2000


this morning in my dream...
P. called me at home and asked me if I had a moment to listen to something extraordinary: L. had sent him a spoken letter, which he played for me over the phone (since my side was a kind of a booth, at home, with a speaker to receive the call, I plugged the door with a towel, as to not be disrupted by the kids' noise, or to spill the tape outside the little wood panelled room). The next moment we found ourselves somewhere outside in some Dutch suburban context, with a couple of (as I supposed would be) L.'s friends, who were celebrating the fact that two of them got reunited after a split. Then L. announced another recording she had made, for P. and the others to listen to, which was played from a car, or bus stop, on the other side of the street. P. and I exchanged a knowing glance, surprised, and indeed as soon as the tape started L. sat herself closely next to P. in what obviously seemed like a desire to make things up for the two of them as well.

It was a very serene scene.

Listening to Unkle's 'Psyence Fiction': I'm a rabbit in your headlights

Le Moulin du Merle
Auberge de la Severie rolled out a great party from 8pm. Under two red cross tents, at the windy and rainy waterside of the Varzy plan d'eau, we enjoyed Gérard and Stéphanie's marvellous hospitality and the company of their singing parents, musette playing godfathers, jabbering regulars and chic customers, the restaurant's neighbours, of all ages and two of the village's policemen, in plain clothes. The 50kgs(!) superb Charolais beef had been roasting over an open fire, in occasional showers, for 12 hours in a row and turned out juicy, tender as anything. Gérard had hired Madame Lulu, the duo that also enlivened the Aurore party at the moulin, two weeks ago. A memorable event, new friends, this is what we're here for.
---
29 May 2000
more two-faced modernization
- We hear about the wonders of the coming digital age, and also about its terrors. It could intensify the totalizing side of modernization at the expense of its critical side. The digital age has great potential for panoptic control and productivist consumerism. Its expansion and its flattening of freedom and autonomy.
(via Alamut, from The Culture Machine/Hypertext as Subversive, by David Kolb)

Meanwhile... I'm updating my new format at the usual URL. Public in a while.

Another update (no re:design): the index to previous issues, now all on the nqpaofu.com server (mind some broken links and non sequiturs, it'll all be fixed asap).

Le Moulin du Merle
Woke up with a virus, 'funny tummy'. Discussing the guest season and why we want who, or not, and if, for how many nights and where... G. and I differ a lot on the subject. Like in everything we correct each other's fears, sometimes the hard way. Things have to work for both of us, even if this means radical moves (like if moving here wasn't radical enough? I like to think it was only the start, and we're moving ahead). Boogie or bust.

Listening to Home, 'IX'. Collage, around 1995. Very little (textual) information on the box. Too lazy to search after them. Saw them once compared and preferred to Ween.


---
28 May 2000
Le Moulin du Merle
Visited the Talon vide greniers this morning, after the Fête des Mères breakfast. R+r competing for G.'s attention. Schools had prepared them with poetry and bricolage. Yesterday the three of us added some Photoshop to the presents. Talon (50 inhabitants, 60?) was a classic small flee market. The buvette was situated in the Mairie and served coffee, croissants, coke, wine and fries and sausages. We had wind and sun and some rain and a very nice temperature. The scene was totally enjoyable. Family affairs. Jacques Tati 2000. Two boys on top of a wall, giggling over a Gameboy. At home I hypnolapsed into half sleep for a few hours. Later I successfully tried the homegrown rhubarb on a tarte tatin variation.

I feel kinda suspended indeed. Not wanting to continue the old, not knowing where, when and how to start a new, getting used to just loving the life. Still a workaholic very much. I gotta do stuff. Then again, visions of total uselessness of human effort. Tonight listening to Jean-Luc Ponty's nervous 1970s electric violin. Up and down. I owe people re:plies. Later. Sudden déja vu, a real one.
---
27 May 2000
Le Moulin du Merle
Stone picking. Put a new handle on the muck fork. Tough to get the old one out. Weeded the hotbed.
---
26 May 2000
a-monumental
To build a new age, eg. of 'information', we have to become deeply a-monumental. 'Building a new age' already seems to counter this suggestion. To construct beyond the model, beyond the ideal, answering to the true affordances of networked media, nothing monumentally, but open connectivity, should be our goal.

To be post-modern means to be post-monumental, post-idealistic, post-authoritarian, post-imperialistic, post-colonial, post-global, post-local—but old habits die hard.

Art and design have been model making traditions, grotesque for their own sakes, to keep a safe distance from 'life', at times competing it, building alternative realities in the passing. To maintain a distance, to thrive in crises, yet to be answerable to information modes, is the only challenge to today's symbolic trades. Experimenting new habits. Un-finish.

Has Modernism Failed?, Suzy Gablik (1984)
- In his book The Gift, Lewis Hyde claims that the way we treat a thing can sometimes change its nature. He also argues that in its fundamental nature, art is a gift and not a commodity. So it is hardly an accident, given the detached nature of commodity exchange (in contrast to the bonding power of gifts), that we have called those nations known for their commodities "the free world." The phrase doesn't seem to refer to political freedoms; according to Hyde, it merely indicates that the dominant form of exchange in these lands does not bind the individual in any way -- to his family, to his community, or to the state. It is only that when a part of the self is given away that community appears. Commodity systems have their own sort of growth, but they bring neither the personal transformations nor the social and spiritual cohesion of gift exchange.

(...)

To be of one's own time, as far as the painter Ingres was concerned, was a measure of failure rather than an achievement.

Art & Discontent; Theory at the Millennium, Thomas McEvilley (1991)
- Art became the emblem of the soul of Modernism, its spiritual validation -- a highly focused realm of evolution-like advances that seemed to guarantee that history was indeed processing toward some goal. Early post-Modern art -- such as the quotational and appropriational work so common in the '80s -- with its deliberate confounding of historical sequences, was designed to deconstruct the Modernist myth of historical inevitability. It argued that the artist now must find his or her way to meaning without relying on a providential ally, an hypostatized History which barely conceals the presence of a guiding deity who can no longer be trusted. Art after aesthetics (that is, after the overthrow of the Kantian theory) is, like science or philosophy, a quest for answers (which may come in the form of questions). Leaving the faith of Modernism behind, the post-Modern artist tracks the future, seeking a face for the unknown.

Le Moulin du Merle
Hold. Later: dirt digging, stone picking, dumping.

bag lady
Gilberthe contributes to the Couture Locale exhibition at the Amsterdams Historisch Museum, opening 18 October 2000.
I published her selection on the site, to communicate to the curator. She's just such a good designer.

dad double sleep
When searching the archive for a print of the 'et si omnes ego non' inscription above the entrance portal to a garden on the Murano island(?), I came across a photo of my dad sleeping, superimposed with some scene including his parents on the far right.

re:reading
Suzi Gablik: 'Has Modernism Failed?' and Thomas McEvilley: 'Art & Discontent; Theory at the Millennium' (see quotes on NQPAOFU#29).

optical age
Got my Pentax LX (*1985) out of the safe after a year, and inspected after many more of idleness. Screwed the filters on and off the lenses, flashed the shutter at 1/60th second (its battery is depleted), changed the view finders etc. Love that optical/mechanical FEEL. Focused all around me. Have to buy film.
---
25 May 2000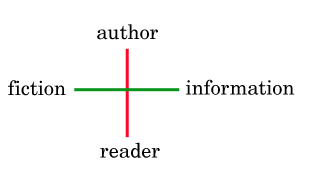 'not a pretty picture' for just-in-time cultural production
Le Moulin du Merle
Vegetable garden uprooting. All there's to it: weeding and watering and weeding etc. We put the potatoes. And lent the 3 party tents which remained of last Saturday's Aurore bouffe to the owner of the Auberge de la Severie, for his own party, next Tuesday.
---
24 May 2000
I am still Alive

So was he. Semper Idem.

blog brevis
Telegram style might do the trick. This is no attempted suicide. I'm not begging for attention. Just need time to ponder (1) Le Moulin Du Merle, (2) the work in general, (3) the online format, (4) economics of attention and other currencies. I'll think out loud as much as possible. If I start to lag you can always send an email to be notified for updates. Remember the come back blog.

Le Moulin du Merle
Weeding in the morning. Former moulin owner Follope came to lunch and stayed till 8pm. When rounding the garden they showed us new tricks, like how to open the garage when the remote refuses. He reminded us to rinse the fresh water source's upstream filter. Again he had to show how to trim the roses. 'Every night we go to sleep less stupid', as a passing friend of Follope put it.
---
23 May 2000
media formations what the blog?!

I wanna be like: a red tin bus... see how that makes sense? (David Thomas)

20000523 links
10th Conference on Computers, Freedom and Privacy (www.cfp2000.org/program/full-program.html)
CFP proceedings soon (www.cfp2000.org/papers)

freedom and privacy by design
JTLYN: Neal Stephenson was a 'dinner speaker' at the Conference on Computers, Freedom and Privacy 2000. There are some interesting links on the conf's site and probably his keynote (which Adam C. Engst reports on, over at TidBITS#532, in 'Threat Models and Domination Systems'), will be online.

what the blog
If you die to know what today was thought to be about, take a look at the source (a habit I would advise you surfers to cherish in more cases). The unfinished and unconcluded rap in comment suspension has been on my mind and screen all day, until I gave up on it. Dunno. Something's lacking in urgency. Or: off-line seems to be more rewarding than on-line. I'm missing out on Generosity completely. My identity is where I am. My thoughts about the Evil Eye and browsing of Felicia Goodman's Ecstacy, Ritual and Alternate Reality; Religion in a Pluralistic World followed up quite naturally on spending hours in the sun uprooting weeds, cooking, listening to Bongo Fury, an the Sound, and wondering about the gift of Sight.

Include me out for a while.
---
21 May 2000
the day after:

aurore
Two slices of cold toast hang out of the toaster which is sitting on the radiator in the dining room, the head of a big salmon with some green on a small plate in the garden, waiting for a lazy predator, the mown grass on the lawn turning yellow, a blanket blinding the garage window, Gil and Anne and Zita and myself watching a 1992 Tina Turner documentary, drinking water and wine and water again, eating left-over (there's so much food!) rice salad in front of a fire, wild flower bouquets (marguerites and buttercups that Rolf saved from the mower, dark bluish purple columbines picked in the prairy behind the vegetable garden) losing their petals everywhere, R+r watching the video shot yesterday, and god-knows-what to find in places where we don't want to look yet, like more dishes. Otherwise the house is in tip top condition, the six of us having lived in the attic for two nights, with 6 guests in the main bedrooms. As a direct result of the Aurore party (our broker celebrating with his Dutch owners of French property), the bureau is cleaned out, and some prints (birds; the cricket and the ant) hung in the library, all but 4 remaining boxes containing primarily archival material fit on its shelves. Some 50 people wined and dined and some danced around the house. We had a wine-tasting (I have to pay attention again when I dispose of the bottles, but already can recommend the Vedrenne Crème de Pêche de Vigne, pure peach to mix with almost any sparkling wine), food catered by Auberge la Severie in Varzy, the chef and his daughter attending all afternoon (we got invited to their private anniversary on May 30) and two musicians from Nevers. Gil had arranged for everything, not with my full consent at first but later I contributed a short talk and of course seconded G. and A. and Z. where-ever I could. When I saw the house hosting all this activity and got all the compliments and especially experienced people having a great time, it all started to work for me. It was interesting to sleep in the attic and see the main rooms as hotel rooms, with their flowers and bottles of water and glasses. Then Mr. Aurore Hugo Versloot's team is a remarkable mix of young and old girls, all with interesting habits and histories, he has an equally colorful clientèle and a very sweet friend, Air France commercial manager Jerôme. Charlotte (Le Mazot goat farm Delphine and Philipe's daughter) did an excellent job entertaining the kids, both visiting and R+r. Seeing the latter, and certainly Rolf, changing very quickly now, growing up to be this boy, talking French fluently all of a sudden since a few weeks, even to us and then switching French and Dutch at whim, is a blessing. Moulin possibility space yesterday was pushed to new limits. Just what I needed. Then finally (I mean 36 hours is a long time) checking mail again I find this great link from Paul, inviting me for a visit to some French garden I knew of but never saw the site, nor the website, much like the ones that could serve as an example for our 1.7 hectares as a Gesamtkunstwerk, if ever we would decide to go in that direction, like Little Sparta, or the facteur Cheval's or Furka Pass or Merz or Eben-Ezer, or Schulthess', or D'Annunzio's Vittoriale, or Güell. I hear Paul's compiling a list, for Alamut? Places of the ideal. Then to actually people these places is a damn fine art by itself.

later
This afternoon I pumped up the Shelby Lynne (I like that voice a lot) volume while G. and Z. were off for a stroll and A. was reading and tanning in the garden. R+r drew castles and built traps for crooks respectively. Now we are putting together another left-over dish, with prefab fries. I set up the dining table in the salon, in front of the fire. It's 10pm. The freezer contains enough remains of yesterday to serve our guests and ourselves several more helpings, a choice from salmon and taboulé and rice salads and crèpes cake and whatnot. All frozen directly after having been prepared. To top everything, Anne had brought the walnut filled dough made by her friend from Amsterdam's café-restaurant Zeezicht, to prepare with an apricot filling. Desert in an hour or two or so. With coffee and a shot of Poires William, or Calvados. This was an intoxicating weekend de bouffe.
---
19 May 2000
re:collections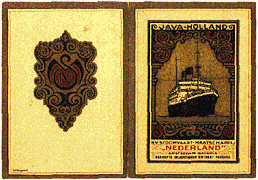 Amsterdam-Batavia single fare (30 days on the 'mailship') Ist class Dfl. 1,220; II class 835; III class 535
20C travel
From a box I recovered most of my collection of several hundreds of last century's travel brochures and flyers and guides and other printed matter. I set up this collection maybe 15-20 years ago when I could still afford material like this. So if someone needs like the timetable and fees of sea travel from Amsterdam to Batavia, in 1930, ask me.
---
18 May 2000
missing in action

an ear for an ear, you're jinglin' baby
There's all these tiny bits that fire up in my mind while living the life: cleaning the house, taking the kids places, mowing the grass, emptying the plates, chopping the woods, doing to do's. Then the urge of publishing is announcing, I think, but I'm blank, unintentionally, not even blocked, just blank and amazed at finding myself without them earlier bits lining up for narration. Where have they gone? Are they left where they were fired, missing in the action, hovering over clean rooms and washed dishes and freshly mown lawns? (I know, re:turning there I might find them waiting for me). Do I want them back? I'm no reporter on lost bits. When you're reporting you remember the bits and fiddle around with them. When you're writing you re:construct them, and then some. Ex Nihilo—not quite perhaps, but Ex Embarrassing Little, most of the time. QED. There was nothing on my mind.

clock wise
Not only all devices and commodities look like they have been manufactured by the greatest misfit of evolution named homo faber, the cutifier, worst is he makes them all sound same. So even if you close your eyes to all the formporn that is around, the soundporn remains. Which BTW reminds me of a story I once heard about some far away civilization where at the movies, at the upcoming of a scene considered harmful to some by some (the essence of censorship), a light at the side of the screen would start blinking, upon which some of the audience would shut their eyes until an alarm sounded for them to let them know they could re:open them. Indeed (and only) alarming are the bleeps and jingles of electronic commodities. Maybe they tell us to close our eyes, beep, never to open them again. Until you hear like wooden cranks or copper bells or steel strings, or air being blown into a pipe or onto a sail, or the ruffle of feathers, or an empty stomach, or sucking mud—which' sounds tell time, and space, not just sweet bits. So truly hating the age of electronics, for its missing information, I wonder if this is the price to pay. What could be the resonant front-ends to the bitstream, that would return space...
---
16 May 2000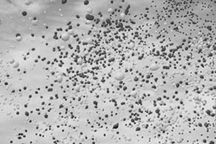 Rhinolophus ferrumequinum, Rhinolophus hipposideros, Pipistrellus nathusii, Pipistrellus pipistrellus, Canis lupus, Lutra lutra, Odobenus rosmarus, Ursus arctos, Eubalaena glacialis, Balaenoptera acutorostrata, Delphinus delphis, Globicephala melaena, Grampus griseus, Lagenorhynchus acutus, Lagenorhynchus albirostris, Stenella coeruleoalb, Steno bredanensis, Tursiops truncatus, Delphinapterus leucas, Monodon monoceros, Phocoena phocoena, Kogia breviceps, Physeter catodon, Hyperoodon ampullatus, Mesoplodon bidens, Mesoplodon grayi, Eliomys quercinus, Bubulcus ibis, Casmerodius albus, Egretta garzetta, Ciconia nigra, Platalea leucorodia, Plegadis falcinellus, Alopochen aegyptiacus, Anas acuta, Anas clypeata, Anas crecca, Anas formosa, Anas penelope, Anas querquedula, Aythya nyroca, Branta ruficollis, Oxyura leucocephala, Pandion haliaetus, Accipiter gentilis, Accipiter nisus, Aegypius monachus, Aquila chrysaetos, Aquila clanga, Aquila nipalensis, Aquila pomarina, Buteo buteo, Buteo lagopus, Buteo rufinus, Circaetus gallicus, Circus aeruginosus, Circus cyaneus, Circus macrourus, Circus pygargus, Elanus caeruleus, Gyps fulvus, Haliaeetus albicilla, Hieraaetus fasciatus, Milvus migrans, Milvus milvus, Pernis apivorus, Falco peregrinus, Falco rusticolus, Falco subbuteo, Falco tinnunculus, Falco vespertinu, Grus canadensis, Grus grus, Chlamydotis undulata, Otis tarda, Tetrax tetrax, Numenius tenuirostris, Streptopelia turtur, Psittacula krameri, Tyto alba, Aegolius funereus, Asio flammeus, Asio otus, Athene noctua, Bubo bubo, Nyctea scandiaca, Otus scops, Strix aluco, Surnia ulula, Emys orbicularis Common: European Pond Turtle, Hyla arborea, Acipenser sturio, Parnassius apollo, Hirudo medicinalis: memory migration from CITES list, NL extinction


































note to self

nqpaofu memory high
is the sequel to NQPAOFU (1998-1999 archive), the weblog.
At some point nqpaofu.com will host the entire publication to date.
The current site serves since 15 January 2000. Welcome.


must link (http://...)

paul
alamut (www.alamut.com)

angels
calamondin (www.calamondin.com)
lemonyellow (www.lemonyellow.com)
puce (www.puce.com)

contrast
bovine inversus (www.bovineinversus.com)
synthetic zero (www.syntheticzero.com)

industry
tbtf (tbtf.com/blog)

search
direct search (gwis2.circ.gwu.edu/~gprice/direct.htm)
Hypertext Webster Gateway (work.ucsd.edu:5141/cgi-bin/http_webster)

myURLs
moerstaal NL (nqpaofu.com/moerstaal)
inf0Arcadia NL (www.idie.net/inf0Arcadia)
inf0Arcadia E (www.idie.net/inf0Arcadia/infoarcadia-index-E.html)
Le Moulin du Merle (www.lemoulindumerle.com)
I DIE for change (idie.net)