nqpaofu.com







St.Germain-des-Bois 1999

April 9-27
NotesQuotesProvocationsAndOtherFairUseX, the Aniversary (Celebratory, rather—especially since I let pass 22 March: when nqp was a year old) Issue, took a while to come about. My move from downtown Amsterdam to middleofnowhere Moulin du Merle got me disconnected for 23 days. No net, phone or fax made ours quiet weeks of mastering muscle movement (get that smile of my face...) and little reflection on what actually changes our lives. The pure joy of physical effort I had long forgotten—this new life is very much about it. Finally, since having travelled half March from Bay Area to Beuvron, there's quite some ground to cover (NPI, no pun intended indeed).

Senses Working Overtime (Muscles Too)
This afternoon (Friday 9) France Telecom sent someone to check the installation and prepare ISDN. We've been without phone, fax or net for 12 days now and we'll probably will not be connected before the end of next week, it appeared. All is quiet. There's the murmur of the Beuvron which the first night we mistook for the removal truck's hum. There's bird song all day. The occasional car, and Christian (the neighbouring farmer uphill) or his workers who restlessly drive agricultural vehicles up and down the sand road in front of the house. This very moment the boys watch Pipi Langkous on video in the next room, I hear Gilberthe in the kitchen, as we're waiting for John and Kristi to return from shopping. There hasn't been a dull moment since we arrived.



www.doorsofperception.com winning the Public Voice Award for the Arts section of the 1999

Webby Awards made a great goodbye gift and a good story to tell the boards back home... With all the American cultural imperialism and capitalist exploitation of our medium of choice, the Dutch were well represented in the cultural sections: jodi won the Arts Webby Award, rubbing it in for American commercialism in their five (limited by the organization) three letter (limited by ignorance) word acceptance speech %-|; GameCentral (no URL at hand due to local information accessibility low, described above) won the 'games' Webby. The Bay beaus and belles swarmed the theaters and hit the Absolutely unavoidable wodka. In a well targeted day after event, Doors threw a cool cocktail at the Blue Bar, to celebrate with old and new friends.

San Francisco was hospitable as ever. Off-Webby I met Glenn McKay, who in the 60's was Headlights, the Jefferson Airplane's lightshow mad scientist magician, who now had an installation at the SFMOMA. Robert Riley, the museum's media curator who I met through Andrea Blum, a very nice gentleman, introduced me to him after the Weibel/Ross discussion on art after the net. Glenn judged the two digerati to act from 'behind glass', which summarizes their performance better than I ever could. You can tell this man has had his share of immediacy. His own Altered States mind blowing graphics survived museification in its small but convincing projection. Flying our own reliable Translove KLM I had just re:read Ralph Gleason's 'The Jefferson Airplane and the San Francisco Sound' (1969), which made the frantic guitar and bass drive (Kaukonen and Cassady) of Plastic Fantastic Lover a welcome tune when I first set foot in the museum. Otherwise for a blast of the past, Haight/Ashbury is still worth a visit, if only for Amoeba records, the largest collection of new and used CDs I ever came across.

Reality Check
Our move to the moulin is by far the most real thing I've done in my life. The house feels like it's been here waiting for us since a long time. Meaning among other things that we fitted in without much ambiguity of what was to go where. It even seems that our furniture and the other 'stuff that surrounds us' was collected over years to finally fit into this place, and start rooting. Working places for Gil and myself, a small play and media (three bed guest) room, the salon and dining room, all naturally accepted our stuff. On the second floor the library, the master bedroom, a bathroom and a chambre de toilette and the most quiet room, facing east to catch the first sunrays over the hill, for guest occupancy.

Many hands made the actual moving-in a pleasure. Much was done in just a few days. Some of the most rewarding jobs were cleaning the river of the wood that got stuck under the mill: John and I got our feet wet and shored the big pieces, after which the local upstream water level dropped with at least 15cm and its shed took the smaller pieces of dirt wood; a few days later we set fire to all the wood and boxes that were emptied (see the iMac boxes light up in flames of tangerine, salmon, whatever...); Gilberthe's brother Erik and his family, who were the first to arrive, had helped to get all the basics right: putting up shelves, carrying the library upstairs, installing furniture, shopping and cooking, looking after the boys, installing a swing between two trees, etc. When John and Kristi arrived on Easter Monday we totalled 10 people, which gave no privacy problems whatsoever.

Now all the wood's in the shed. The lawn is mowed. John's a real pioneer when it comes to the outdoor life. He first ignited the tractor, mowed the lawn and sampled the wood. With Kristi he built the fire and schlepped a remaining 10 cubic meters of firewood into the former horse stable. You can tell originally he's from an estate.

Automagic doesn't happen. The place is magic but it doesn't do magic. We should, in this experiment. Last night (Tue 12) I realized that I have been (and probably still am) torn between whether to have the mill work for us, myself, and friends, or for (to put it quite exagerated), 'art'. Is it a private or a public place? Do we narrowcast, or broadcast it? Or do we recast it, for completely secret purposes? Will this experiment be private or public, or both? Will it be 'economical', or 'commercial', at any stage? Now applied to a new site, the very question has been the motor of so many of my projects. But then again: is the moulin a project or a safehaven? What will be its spin-off, if anything means to generate an economy?

(what) information, (in) an economy of secrecy?

Sausolito is across the north bay. Michael, Kristi and myself took the ferry to see Erik, from France originally, a graphic/media designer who worked at Wired, and his studio partner Patricia, American. Their outfit was recognizable, today even better then when I visited them before the move. A huge collection of graphic and other memorabilia to thrive in: a humus layer of graphic expression to work from. Erik has a site—if I only dug up his business card from my own humus...

Amoeba records on Haight Street (the mega one), and later on Telephone Street, Berkeley, supplied me with new female voices: country singer Iris Dement, folk singer Gillian Welch, (for Gilberthe more Bonnie Rait, who I can dig in some moods). Paul brought me Kristin Hersh, when we said goodbye two days before I moved. Ann Levine taped me Joan Osborne, and the McGarrigle sisters. Muses, their voices make the house vibrate. Since Grace Slick (White Rabbit) and Janis Joplin (Ball and Chain) and Victoria Williams (Loose) (and a short flirt with 80's theatrical extravaganza Toyah Wilcox, but true affair with Siouxsie Sioux) I've been enchanted with the mean chrystaline, which intones everything secret in la femme, revealing only glimpses of her. Syrens inform man's odyssee.

Tales of Migration
The first book that emerged from the mix that I surrounded myself with in my studio (since the bulk of the library is still in the boxes), is Julia Kristeva's Étrangers à nous-memes, and Richard Mabey's The Book of Nightingales. The latter was a present from the Vormgevingsinstituut, without doubt selected by Kristi and John. 'Yet the real nightingale is a drab-coloured migrant, whose song is reckoned by scientists to be no different from other birds'—a functional proclamation of territorial rights. So why have humans so often fell under its spell?'. I wish my territorial proclamation of the moulin will be like the nightingale's... Kristeva, who I have considered too complicated before, wrote this very readable (even in its original French) account of 'strangerity': a who's a stranger to who. Though from 1988, with stranger things having happened since on the international stage (we're among other things deprived from the daily Kosovo war news), she gets the fundamentals (NPI) right: leaving home, parents, language, for an uncertain status of ambiguity, among 'autochtones' who themselves, in a truly existential way, estrange, unroot their identities since birth, only to replace them with romantic nationalism and other artificial sentiments. I haven't finished the book yet, but its cover claims to be a plea against integration and in favour of a deep respect of the right to be different. 1988. Over ten years later, how much will our judgement differ today? How much can we respect the ugly Disneyfying pride and propaganda of international media coverage of 'ethnic cleansing' in the Balkan? We don't need to know how 'real' these sentiments are, in order to dis them, and not tolerate them. Respected or integrated: old habits will perform ugly practices as soon as sentiments rise and territorial claims drab-colour the agenda. With no song to guise it.

Into the Mix
My first studio book selection covers anything from Kawasaki (Rules for Revolutionaries) to Kounellis. Like I said the library is still closed, but having re:stored its boxed contents several times the past weeks, a great variety of titles dropped from it. They reflect my interests of the past 20 years, and project future activities. There's the Agamben, Cioran, Kierkegaard, Nietsche, Sloterdijk, Valéry shelf. Marcel Broodthaers and Yves Klein. Flusser. But also Tadanori Yokoo; Bakhtin; Paul Klee; Tufte, and the Art of Rock; Jeffrey Deitch's Artificial Nature and Posthuman; Ed—'The Whole Internet'—Krol; Michael—'if you're not confused, you're not paying attention'—Rothschild; et caetera. David Ireland. David Lanham. David Thomas :-). The latter (Pere Ubu frontman) once lectured at the Rietveld Academy on sound and acoustic space. I found the one missing CD from PU's five CD box in my old player, which had been in repair and never played since... Bey and Zerzan. Kahn's Code Breakers. And dictionaries from A to Z and back again. Plus the bamboo files (6 titles, including The Book of Bamboo and Bambus-Bamboo. Finally: How To Start Your Own Country.

Routes, Rituals, Routines, Rules
The size of the estate, its architectural order, its position in the natural environment, its social environment, all make for different logistics, habits, and contracts. Between the four of us, and with visitors. We take different roles from when in Amsterdam. We're still in holiday mode, but yet. Opening or closing the shutters takes 10 minutes, So Jean-Bernard Follope, the former owner, told me. You have to help the house to go to sleep at night and wake it up in the morning. There's a choice between two drives from the house: south, or north. The first takes you to Thurigny, Cuncy les Varzy, Villiers le Sec and Varzy; north, to Ouagne, Le Plessis, Rix and Clamecy. The nearest bakery is 10.8km away. The circular saw I bought was a 12.6km drive. The bank is about 12. A b/w photocopy is too, see below ;-)

Daily Life as Exercise
Today, Tuesday April 13, was our first day of daily life at the moulin. I spoke to Joke's, Andrea's, and my dad's answering machines, from the telephone booth in Cuncy les Varzy... (you have to keep moving, between Ouagne, Thurigny and Cuncy). I phoned Laurent Malone in Marseille, hoping to speak to Francine, who wasn't in. Laurent: 'tu dis des conneries', when I told him I was calling from a phone booth in pleine Bourgogne... after I spoke to Francine's answering machine. What the heck is it about these new machines? I want one as soon as I'll be connected! What else do you need a telephone for? So I went to the bank to change my address and get some information on credit cards and cheques. When I asked the guy where in the village I could make a photocopy, he told me at the Mairie (townhall), but offered to make me a copy at the bank, with a line of four waiting. Thank you Crédit Agricole in Varzy.

Meanwhile, in our own small place, St.Germain-des-Bois, we are inhabitants nrs. 100 (moi, of course), 101, 102 and 103... according to our mayor, Paulette Simon, who thanked us for participating in the recent recensement, the once every 10-15 years census.

From the Cuncy phonebooth I saw sweeps of rain approaching, hanging from the dark purple cloud that pushed away the sun spot that was over the village. Before, driving down from Varzy, the wide panorama showed the pattern of weather difference per slope, per valley. Fast moving shadows of clouds, white blossom spots in the sunlight everywhere. The Bourgogne is wide in this region. From the hilltops you have splendid views, driving into the valleys you feel like entering secluded, almost artificial space, a vivarium, where you hit upon occasional deer: yesterday morning at eight four of them crossing the road in front of the car and two hundred meters down a wild(?) dog, crossing, looking at the car, crossing the meadow on the side, reaching the edge of the small forest, where it paced back and forth keeping an eye at me. It could be a farm dog, it looked like a German shepherd dog, but it behaved skittish.

a house is a house of course, of course, that's why it's called a house
The sun rises in the east, also in Burgundy. When it appears over the edge of the hill opposite the house, it first fills the small room in the attic, where there's no electricity yet, and which badly needs new stucco. The four of us are sleeping in the master bedroom on the other side, one floor down, right above the original mill, with the dining room in between. Early I sneak down to the office/studio on the front/east side. Opening the windows' and doors' shutters, the house starts here every morning. Opening and closing the shutters gets you in contact with the morning and night air, the elements. You go out barefoot on the terrace. We foremost live in the small kitchen and dining room. Some nights we lit a fire in the huge wooden sculpted (the merle sits on it) fireplace in the salon, which (although it still looks spacious) hosts the Groningen-The Hague-Amsterdam buffet, that's been with us for 18 years (we only started to use its small bar for the proper purpose since we settled our Suze in it), three Vernor Panton S-chairs, on the diamond shape patterned rug, knotted after an early painting of mine, the sound installation, 4 removal boxes with vinyl albums, under a red blanket, one larger one with two turntables, the 1977 Tizio and the recent blob shaped standing lamp, the old daybed, covered with a goat skin and a sheep skin. Some magazines in the corner. One old chair and two understuffed moss-green poofs, left by the Follopes. An underwater scene drawing in greens, white and orange (goldfish?). On the buffet there's a pile of books on Burgundy and France, one of Joke's photographs, as well as a specimen of the ball it depicts, and a made in Taiwan plastic multi-colored soft football. Next to it is the play and media room with the boys' computer and video and toys and three extra beds, then there's the office/studio where I'm sitting right now.

We haven't changed any of the decor, and probably will not for quite some time. All the wallpaper is still here, some furniture we bought from or which was left by the Follopes, their light bulbs and some lampshades, the kitchen equipment, some hunting trophies on the diningroom wall. It makes a personal hotel we feel very comfortable and safe in. Jean-Bernard's love built the place up from its original state, he did it with respect and was heartbroken to leave it after 22 years. He's around (at 10km) to if necessary help us out with its mechanics, source water, heating system and intricate electricity. He told us to call in the fire brigade to remove a bees nest from one of its chimneys. He showed us the tree he set fire to, to scare away the hornets and kindly advised to do so again, in case they would return this summer. He was ever so pleased to see us take over maintenance, remove the wood from under the mill, mowe the lawn, install our stuff. John invited them to stay for dinner last week and they still felt at home, you could tell.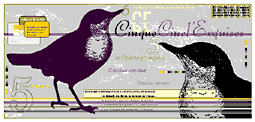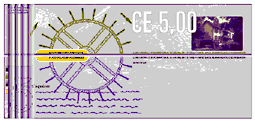 placeholder, both sides of the CE5,- Cincl'Exquise note, unfinished

April 14
Daily Life, Day 2
At 9:42 a helicopter of unknown origin almost landed in our meadow. It swept the Beuvron valey from the north, very low, to almost dip into our bathroom... R+r were totally excited. When it disappeared to the east I think I saw the EDF/GDF logo (the French gas and electrics). I already have a 'private fishing and hunting' sign (located where it is, along the road, it doesn't scare away a whole lot of trout fishers—they're dedicated, and it's their season), seems like now I have to declare a no-fly zone too.

In the mail (we've been told the mailman also takes mail that you want to send from your box at the gate, if you mark it red: he's got his own key to it) this morning: three bundles with tons of invitations to exhibitions around the globe. Most of them have received a change of address. Then there's mail for Gilberthe sent through to me, and vice versa. A blue tax envelope, the nth since we arrived. The only personal mail today is a letter by Anja Bullinga from Winsum, as a reaction to our move. Would StGdB be like Winsum, demographically?

Le Monde Serbs Me Right
At the Auchan hypermarché I bought some magazines and a newspaper which' scope is considerably beyond the Nièvre: Le Monde. Wednesdays it has a weekly new technology supplement: Le Monde Interactif. This week with a nanotechnology lead, and the French Y2K mobilization. Also we get our Kosovo update. The French perform their traditional uneasy position, critiquing and supporting at the same time, the Western players' roles, while coming out themselves best—Remember Rambouillet.

April 15
Alo, alo?
What takes France Telecom? Haven't heard from them yet. I'd better call them from Ouagne later. We're beginning to miss our telecommunications. (...) Having spoken to Mr. Boullez, and after browsing a French Mac magazine, I think we'll be best served with a new G3 (i)Mac, connected by this new Sagem Planet RNIS USB modem/router to connect a local network up to 4 machines (Mac/PC) to the net via ISDN, or as it is called here: Numéris. It gets a very good press and costs only FF1,500. Furthermore I was told that tomorrow afternoon the technician who was here last week will come again, with Mr. Boullez in person, to connect me. Cheers! I'm ever so surprised to see the technician and another colleague an hour later at the gate, just before we're about to take off on a little local trip, since the sun is out and we figured didn't have to loose time sitting at home waiting for a sign of FT. I give them the remote control for the gate and we leave. They're pulling new cables to the house from the road. Because they have to go around the trees in front of the house they make a detour around the barn. It's their pride to connect you anywhere from anywhere. Boullez told me ADSL will be another year or two before it is offered commercially and cable is only offered in Lyon or Paris...

Corbigny is a pleasant little town some 25km south of here. On the way back we passed by the Vaux and ... lakes, and saw the swallows do their neckbreaking act over the dam that seperates the two. South of here the landscape is more friendly, almost wellkept. We're still happy to be where we are, house and landscape wise.

April 15
Ceci n'est pas un sabbatical
After three subsequent restless nights and an upcoming cold, two nightmares of the seeing-your-family-drown (one suicide, one accident) motif, more Amsterdam and New York answering machines, general fatigue and even hints of boredom, let Daily Life, Day 3 begin! This is not a sabbatical, stupid! Today, we'll be connected. I have no idea where to get the Mac and the Planet connector plus the Ethernet gear, or whether FT will come up with a solution to connect our expensive Siemens cordless phones. Worst case scenario: tonight the family will be sitting around the PC to phone home, using FT's card for phone, fax and Internet access, speaking throught the Aptiva's stupid mike, but clearly hearing our friends' glee from their chuckle, through the Aptiva's stupid boxes. 'Welcome en France', to quote my new FT friend Jean-Michel Boullez' delightful Frenglish.

9:25, here's two bright blue FT cars at the door. Yesterday they pulled 4 ISDN lines to the house, in case we would need to expand. The technician is a very nice man with a ponytail who informs politely after our businesses and whether he didn't wake us up at this early hour, and where we'll hide when the Beuvron rises... Hmm, the colour of the water blurred over the past days due to more supply and the subsequent stirring up of particles. I had almost reached its summer clearness last week, but it turned back into soup. But I haven't noticed a rise. I'm glad John and I removed the wood and dirt last week.

The sound of FT's drill in the basement reminds me immediately of Flusser's Ementhaler architecture: we've drilled so many holes in our houses to connect it to communication and household systems. I go out to check the availability of Macs and modems in the Nièvre from the nearest phonebooth. (For those who thought we would have been wise to get a mobile, I forgot to mention that we are actually living in one of the few white areas on mobile phone network's map of France. Apparently due to a hill full of iron. We're living in a cage of Faraday?)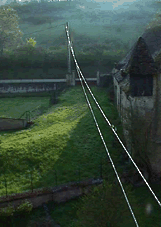 placeholder, the upper line (with birds) is electricity, the lower is ISDN, coming to the house (the barn is in the background on the right, note the pointed roof of the horse stable's water tank)

The reason for this place's invisibility on the mobile network appears to be slightly more banal: the area is commercially uninteresting to the providers. They serve the nearby route Clamecy-Premery-Nevers. We're slightly out of reach. But we got connected and everything is hunky-dory. Not that I have net access, nope.

April 15-16
Connectivity in a cloud of dust
Philippe Dauvergne (the ponytailed technician) had done a great job. Lines in place, all the switches right on ye olde isdn switchboard and leaving his own isdn phone with me until we'd have found a solution to connect the Siemenses, or gotten new phones. He left his phone number in Clamecy to get in touch with him for more fittings, once we've decided where they should go. Following, sweating young Mr. Boullez from the Nevers commercial department spent the entire afternoon to supply my PC with a Djinn card, that supposedly did all telecommunications (phone, fax, voicemail, internet access) at an investment of FF850,- Alas for him and me, connectivity isn't all that easy, it never is and it certainly isn't from here. So when Philippe left his work was done. His phone worked. Small detail: the numbers FT supplied us with a few month ago, to generously hand out, print on our change of address, etc., were their mistake. We got five new numbers. And an answering machine on the other five, at their cost. Naturellement. (It reminds me of a minor car accident I had in France 19 years ago with the first car I owned, a white Peugeot 204 with a sun roof. On a very small mountain road an opponent hit me while desending, at low speed. Out the car jumped three French who upon quick inspection decided I was lucky to have my car unsratched, then 'helped' me to click back on the chrome strip on the side and continued down. The whole thing took maybe 30sec. Only after they had disappeared in cloud of dust I detected the scratch along the left side of the car). So, shit happens and is here delt with with natural charm.

Interestingly, Philippe woke up my Mac when pulling his wires to the office, and couldn't resist reading the screen, which by pure chance had my description of him on it, opened in Netscape. So the next time I walked into the room he said this was très gentil de mon part, to describe him in my diary as a very nice man, and whether he could have a print out of the quote ;-)

To summarize it all: we ended up with 4 ISDN lines, a working phone to call our friends' answering machines with, 5 fresh from the mill phone numbers, an answering machine by Monday (we'll have to see about that) to redirect the world from our old new numbers to our secret numbers (or to an answering machine which suggests in a very calm voice to send email or faxes), a 'Djinn' card that handles faxing (from a PC), and Minitel access and (after some nightly fiddling and several calls to Paul) trial and error expensive Internet access through my existing xs4all account. But I cheer up: tomorrow's a vide grenier ('attic emptying') cum fair and braderie in nearby Brinon-sur-Beuvron. Connectivity makes one forget the real priorities in life, now I know for sure.

April 16
Consumption or Production as Conditions of Life and Communications—or, We Can't All Have Picasso's Profile (NPI)
The later I go to sleep, the earlier I wake up to continue the line of thought or business that I had a hard time to give up the previous night. So around 6:00am (after a dreamless sleep, finally) my mind tried to connect again. With my communications in place, but at high browsing costs (temporarily), wouldn't my tendency be to produce (for), rather than consume the Internet/web? After a year long ADSL addiction, I wonder about the connectivity symetry I have always supported. The natural arrogance of the artist is better served with less distraction and an unlimited bandwidth upstream: to trouble the community with his outpourings unhindred. All the bullshit about 'consumers becoming producers' means only (not when coming from the EFF probably) to allow production the way Henry Ford liked it: hurrying it up in any color you like as long as it's black, all along the assembly line.

In an information economy, all that the consumer produces, is better profiles of himself—the consumer—to allow information industry and the global marketplace ('content providers') to easier force their commodities down his throat/pipelines. [After you (information economy is -)]

Market, Anyone? Genius, Anyone?
What a different schtick a free market is: a free market would be a market of piracy... of unsettling creativity and fuzzy property rights: a Picasso's market, not an art market; an arrogant market, not an authoritarian one; and a give-away market, a local exchange trading market, a potlatch market, a show-me-yours-and-I'll-show-you-mine carnavalesque market (hey... what about the Internet!, some of you will now claim—not the Internet). The rest of us is on the consumers' market, let's face it. Not a Genius Market. A poor simulation at best. But a rip-off, really. Faux-market for faux-Picasso's. Genius served on the suburban placemat and the local pub beermat and the deliver-it-to-my-home doormat.

April 17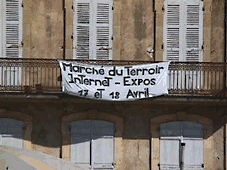 placeholder, underhyping the Internet#7: Brinon-sur-Beuvron, Nièvre, France, 1999 (800± inhabitants)

Local Color Can Make You Go Blind
Brinon-sur-Beuvron flashed all its local color this morning: Marché du Terroir, Internet, Expos and attic emptying with an attitude. True, there's no on ramp to the fast lane within sight for terramiles around. A propos local color: the Valentine paint brand informs on the regional color schemes for France. Unlike Holland, where we have a choice between Venetian white, Indian summer pink or VanDyke brown (remember John Schlesinger warning for the abundant and slippery VanDyke brown on the Amsterdam sidewalks!), here the colors are mixed in the can, in traditional schemes for the outdoor stucco and woodwork. Shutters and windows are a typical very pale greyish blue in our neighborhood.

Obs, color
Gilberthe spotted the first King-Fisher since our arrival. They were the reason I instantly fell in love with this site, 8 months ago (only. things went fast). Obs is for 'observation'. It is used as a subject header a lot on the ornithology list.

April 18
Erik Adigard,

http://www.madxs.com (just found his cards when going through my San Francisco luggage) is the French designer/artist in Sausolito (who felt an upcoming desire to return to Europe and actually was going to Berlin for a project—this to underscribe that there's Valleys and valleys around the globe, see also 'La France Profonde', following). Unopened, like some other boxes and suitcases, my bag was still labeled KL 605, in the master bedroom. Even the Frankfurt bookfair documentation came out of a bag today. Silent promisses of grand new projects... Kilo's of it. Shelved bits hidden in atoms. My latest project however is a blossom lopping arrangement, done just before dusk. Smells of woodfire and lilac mix in the salon.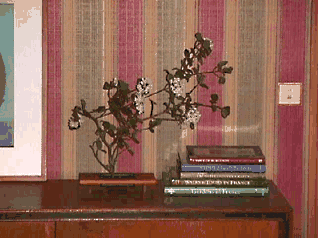 placeholder, blossom lopping arrangement (lilac?) (note how it weighs down elegantly over the Burgundy books)

April 19
La France Profonde
Pity us. We've only just started (here). Availability (disponibilité), answerability, will be battling connectivity, reachability, for the coming period. In the Beuvron valey ('deep France') I hope to develop the first, (possibly) at the cost of the latter. My continuing interest in competence I hope to marry to answerability. When all the world's a (media) rage, where do competence spaces open? Would they in the context of traditional discipline (both as professional expertise, and as self-constraint—and its organizations)? Or will they open in the eye of turbulence? Is competence a clearance? Or could it be an obscuration? Hiding in the blind spot of media attention. How much reputation, and what kind of attention, deserve our competences, beyond the great rejoicefull unison of new tech? On the dark side of lightness, we read Teste:

-Il y a des personages qui sentent que leurs sens les séparent du réel, de l'etre. Ce sens en eux infecte leurs autres sens. Ce que je vois m'aveugle. Ce que j'entends m'assourdit. Ce en quoi je sais, cela me rend ignorant. J'ignore en tant et pour autant que je sais. Cette illumination devant moi est un bandeau et recouvre ou une nuit ou une lumière plus... Plus quoi? Ici le cercle ferme, de cet étrange renversement: la connaissance, comme un nuage sur l'etre; le monde brillant, comme taie et opacité. Otez toute chose que j'y voie.
(from: Paul Valéry, Monsieur Teste)

[NL translation 1975, by Gemma Pappot: 'Er zijn personages die voelen dat hun zintuigen hen scheiden van de werkelijkheid, van het bestaan. Dit zintuig in hen tast de andere zintuigen aan. Wat ik zie verblindt mij. Wat ik hoor maakt mij doof. Datgene wat mij doet weten maakt mij onwetend. Ik ben onwetend doordat en naarmate ik weet. Deze helderheid voor mij is een blinddoek en bedekt ofwel een nacht, of een licht plus... Plus wat? (IMHO 'une lumière plus... Plus quoi?' bedoelt een licht op te roepen dat niet wordt aangevuld—'plus'—maar dat 'meer' is, 'meer' doet dan verlichten? JK) Hier sluit zich de cirkel, van deze vreemde ommekeer; de stralende wereld, als vlek op het hoornvlies en ondoorschijnendheid. Haalt alle dingen weg opdat ik zie.]

Here, now, I realize very easily how myopic our routines can become. Not that they're no good (they lead to an increase of volume, to say the least), but they are uni-directional and to a great degree self-fulfilling. There's never a break until there's one. Singularity? Only at the end of a tunnel. Who wants to take that ride through? New media and technology are a tunnel. A splendid one, too. But they are not an information highway. Informationalization happens, greatly afforded by computation and telecommunication, but it is a cultural revolution outside the tunnel of technology and commerce. Aesthetic competence (for the arts at large) is not in media rhetoric, politics, moralism,

-Between the inescapably futile quest to speak in absolute language and an inevitably impoverishing contentment with the everyday flux lies the potential of the most enriching and informative dialogue.
(from: Gary Saul Morson (ed.), Bakhtin, Essays and Dialogues on his Work)

April 20
R+r on School Duty
Today R+r served their first morning (9:15-12:15) at school, with Madame Fannet and two adjoints, Dominique and Frederique. In total some 14 kids aged 3-6minus are in the class. The boys looked lost, shy but very obedient, when we left them for three hours in this group, with no possibility to communicate in its language. When we picked them up they were happy to see us, but not terrified. They never did good reports after school or kindergarten, upon being asked what they had been doing, today was no different. Rolf made a drawing, and took it home. A house with a black cat behind the window. Roemer colored a fish, and showed it to us, they had done some gymnastic play, in which they had mimicked the other children and thus grasped the rules of the game. They know how to say 'Madame' and 'bonjour' and 'au revoir'. They didn't pee their pants, ours are the bravest Rrs 'round. We took them for a big lunch. Returning home Roemer slept for three hours and Rolf played cassettes, stretched on the sofa, a bit absent. The school's on Mo, Tue, Thu, Fri and some Sa mornings, so today is off. *Before yesterday, when we had dinner in the salon for a change, I took this photo.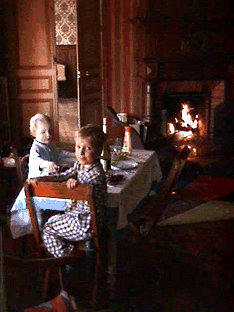 placeholder, luxe, calme et volupté, or, the young maitres waiting to be served—note the mayonaise to go with the shrimps (flacon with orange cap in the back on the table)

Last action for today: connect to xs4all.nl and retrieve my mail through Netscape: 'there are no new messages on the server'. Instead I download Paul's

'present attention', to read in bed. Bonne nuit to y'all.

April 21
Mercredi, the real thing
Last night's rains have cleared this morning to bless us with the best spring weather you can dream for. Clear, fresh, sunny, all the green vigorously sprouting, striving for form, living it out.

A fresh start doesn't mean a great day. Promises, promises, when do I learn to recognize when being misguided. All four of us went nervous to a twitch. Nothing notable that could have changed the moods, shit just happened (it always does). So we fought for attention all four of us, and misunderstandings were our gain. The boys were terrible, so was I and to be honest so I think was G. Come as you are, so true: 'je neemt jezelf mee', some people we know, who always judge a glass half empty when I think it still is half full, warned us. They're not right with glasses and they're not right this time or anytime. Our glasses just ran over today.

Old Habit
When all's calmed down I sit at my computers and connect. I add to nqp. I read and send mail. I go to sleep late, to wake up early. It's night out there, the shutters closed, all's silence but for Gillian Welch's guitar and voice tonight. Syrens, come see about me...

April 22
Remedial Jeudi

April 23
Unexpected Guest
Joke arrived 9:58pm at Clamecy—she'd left Amsterdam 1:30pm, and combined ordinary trains, with TGV (Brussels-Paris), with very local trains (Laroche-Clamecy). We love to have her and are so glad she followed her impulse and got on these trains, RERs and what-not. She'll leave Sunday.

April 24-25
Bonne week-end
Evocatory. The hallmark of best form. This week-end Saturday we spent with Joke first in our meadow, marvelling at all the weed species and wondering how much of it is edible, the afternoon some 50kms west along the river Loire, near Cosne-sur-Loire, Sancerre, Pouilly-sur-Loire (what do these names you wino's bring to mind? Uh, you forgot, good), where we had the near-halucinatory experience of crossing the wide river with all its partly overgrown sandbanks (canoe heaven, must return there), high up over an old rusty and out-of-use railway bridge. Gil and myself since our move several times already experienced a kind of being-a-kid flashback, this sure was one of them. True adventure. Doing things that (at least in NL aren't allowed, inaccessible, long taken down, barred) are dangerous but not too. Thrills.

We spent Saturday evening at home with Joke, for a long time talking in the kitchen (never had one that invited conversation—small and overheated as it is this one does) and later at the fire. At the end of the evening she shared her expectation that fashion would be the site of contemporary expression for the next couple of decades. Upon waking up the next morning I found the idea hadn't left me—I felt it hard to believe first, second wondered what (good) expression is to me today. Never liked it as a ruling principle in the arts, still don't.

Expression and Media Cred
When we drove up to the Clamecy railway station where her train left at 10:05am already, I asked her what she meant last night, and what was up that had escaped me?, whether this meant she thought expression would democratize (again, think late 70's ID et al) in fashion or what? No of course, but as a vehicle of material attention and information she thought it would rule, and she promised to send some examples from home. Now I could go along with the material specification of it, and for sure as a site of promotion fashion has a better support system and better financing (the rich perfume and beauty business eg.) than the penny gasping art world, and indeed a happy few that's on the increase as far as media attention goes. So maybe after all she's right considering an exploding niche. Outside the niche other disciplines struggle with their media cred, or do not at all fit a star system (architecture def doesn't IMHO). New media do, and though not specifically a vehicle for expression (I'd better say: not living up to my expectation when merely a medium of expression), interesting change should come from this niche. So it's fashion's turn to outperform the other old media (as the last medium in a long row) at what they're good at: exploiting other niche's sign systems, creating faux-avant-gardes, offering illusions of and even some vehicles for expression, 're:grouping' individual identity, museifying the good life and all its dark motifs of extreme decoration and consumption—in short, broadcasting an illusion of change. Artificial change in its best tradition, a classic in popular culture.

-The abundant commodity stands for the total breach in the organic growth of social needs. Its mechanical accumulation liberates unlimited artificiality, in the face of which living desire is helpless. The cumulative power of independent artificiality sows everywhere the falsification of social life.
(from: Guy Debord, The Society of the Spectacle)

Repas Campagnard To Top It Off
From the railway station we drove to the village of Breugnon, where a foire was promised. Having seen Joke disapear out of sight, waving until she was as small as a 'pencil point' (Rolf), we needed a drink. Heureusement wine had been served from 8:00am when the foire had started. We joined the drinkers at 11, sitting in the grass under a clear blue sky, taking it all in: cows, horses, sheep and fowl, small quantitites of it on a small territory, surrounded by the mumbling of some 120 locals and few—but genuine, telling from their garb—authorities: the police with their képi, the mayor ('s wife?) in a Gauloise Blue deux-pièce, the major agricultural players and a car dealer in their habitual dress. R+r passed by in a pony car with jingling bells, led by the former director of the French school in Amsterdam, as he introduced himself to us in Dutch... All this brilliance was hard to say goodbye to, so we decided to sign up for the copious repas campagnard later. Finally after more wine and rest to let all fluids evaporate and solids de-gas, we got home at 5pm, when I went straight to bed for an hour or so. Heavenly day.

April 26
Don't Panic, It's Only My Material Expression
We invited the Follope family (former owners of the moulin) to drop by for a drink in the evening. They brought their grandson Maxim (aged 10) to play with R+r. They have known eachother since last summer when we first visited here. Maxim lives in Paris but spends most holidays with his grandparents. Having loved this magical place so much, and having built it up from the 'original' state, expecially for Mr. Follope a visit is a mixed blessing. We are kind of nervous because of what we do to their dream, they are nervous to see it again and are visibly relieved when we show them the progress we make and the respect we pay (the wood's in the shed, we moved the furniture that we bought from them around to Ms. Follope's satisfaction—and surprise of the new nooks that were created with it). Later he shows us around the garden and reveals a site for watercress in the fresh water source's overflow in the field, shows us the wild garden sorrel with enormous leaves, forsees a very good quince harvest and warns for nesting hornets, and wood mice invasion and a kind of soil crustacean that cuts the roots of your vegetables. BTW, the footsteps we hear every night since a few days on the loo's ceiling aren't mice's or rats', but zevenslapers., (Lat. Glis glis) (still waiting for an English translation, I need a good French-English dictionary, to save me looking up things twice and missing out zevenslaper, or relmuis, which, contrary to 'relnicht' (militant homosexual) is not in my Dutch-English Van Dale...).

April 27
9:15am-4:30pm
The first try at sending R+r to school all day, including the warm lunch and afternoon play, was a success. Next thing will be getting them on the school bus... Rolf seems to like the idea already, Roemer is somewhat hesitant every morning. Tomorrow like every wednesday they're free so we'll probably go on a day trip to Nevers or Bourges.

I started working on the Sites+Situations 29 May public event a few days ago. I want it to be a kind of a jam session, with changing participants, to discuss the different projects that come out of the international workshops along the lines of an agenda on new competencies, skill sets and collaborative contracts, beyond the leveling of disciplinary differences, as mere subsets of technology or media. In general, topics might critique contemporary practice by balancing 'the' public vs. 'a' community: targeting specific goals and constituencies with specific tools and skill sets, on special interest issues; audience stratification; customization; one-to-one markets; information economies; corporate art; radical privacy; multiple authorship et al. And its material expressions for evocatory excellence.

This will now go on a floppy to be snailmailed to Kristi who will be my postiljon d'amour. Thank You K. Expect the next issue to not take me so long.




feedback

up


19990331: the

Cincl'Exquise currency:
local exchange trading


ATTENTION CURRENCIES

---
NotesQuotesProvocations&OtherFairUse:
best bits from correspondencies, attendencies and collected hard copy
---
SINCE 1998
---

copyright 1998-1999
since 31 March 1999 brought to you through
Le Moulin du Merle
St. Germain-des-Bois
58210 Varzy
Nièvre, France


---